Bayern Munich CEO Rummenigge warns 'moles' over Pep Guardiola talk
Pep Guardiola will be given the full support of the Bayern Munich hierarchy until his final day at the club despite reports of unrest among the players, CEO Karl-Heinz Rummenigge has said.
Guardiola confirmed in December that he will leave Bayern when his contract expires in the summer, and there have been several media reports suggesting that there are significant issues behind the scenes.
Bayern defender Holger Badstuber insisted this week that the atmosphere at the club is positive, but an unnamed player told respected German football magazine kicker on Thursday that the mood is "not good," in part because of Guardiola, who apparently accused some members of the squad of being overweight in front of their teammates.
On Friday, the tabloid Bild reported that the claims in kicker were accurate, based on its own sources.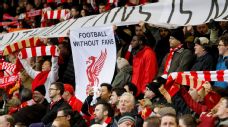 Sport Bild has also reported that the long-serving club doctor Hans-Wilhelm Muller-Wohlfahrt, who left along with his staff in April last year after a row with Guardiola, is set to return when Carlo Ancelotti takes over in the summer.
Bayern's injury problems have not abated since Muller-Wohlfahrt's exit, with the groin problem that Jerome Boateng picked up on Friday representing the 14th muscular injury so far this season, which has prompted fresh questions over Guardiola's involvement in the issues.
Bayern CEO Rummenigge, though, wrote in the match-day magazine that Guardiola "will get the full support of all decision makers at Bayern until his last working day" and added: "Those trying to provoke a 'lame duck' discussion should be sure to remember this."
Last week, Rummenigge had moved to dismiss a suggestion in Bild that Guardiola was not showing full "diligence" over training sessions since opting not to renew his contract, and he also tried to shift the blame for Boateng's injury onto the German FA.
Bayern currently lead the Bundesliga by eight points, have reached the quarterfinal of the DFB Pokal, and will take on Juventus in the round-of-16 in the Champions League.