Boateng injury to test Bayern's complicated Guardiola relationship
The situation, Bayern Munich chairman Karl-Heinz Rummenigge told dpa on Tuesday, was "not as dramatic" as initially feared: A scan by former club doctor Hans-Wilhelm Muller-Wohlfahrt had revealed that injured Bayern defender Jerome Boateng (groin) could possibly come back onto the pitch for "the last third of the season".
It was interesting to hear Rummenigge casually drop Muller-Wohlfahrt's name into the conversation. You'll remember that the 73-year-old had walked out on Bayern last April after Rummenigge had taken Pep Guardiola's side in an ongoing argument between coach and medic about players' injuries.
Sport-Bild revealed on Wednesday that the Bavarians are trying to reinstate Muller-Wohlfahrt, who has continued treating Bayern players in a private capacity, as a consultant next summer, when Carlo Ancelotti takes over, and Rummenigge's confirmation that the iconic "Mull" (Muller-Wohlfahrt's nickname) is involved in Boateng's treatment must be read in that specific context.
Bayern have publicly extended an olive branch, to prepare the ground for the doctor's full-scale rehabilitation in the post-Guardiola era.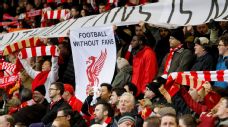 The rapprochement will have preceded Boateng's injury in Bayern's 2-1 win at Hamburg, but Boateng undoubtedly played a role in the German champions' tacit backing of their former physician this week. As the World Cup winner became the 14th Bayern player to sustain a major soft tissue injury in the Guardiola era, those at Sabener Strasse, Bayern's training centre, who have continued to doubt the Catalan's training methods and fitness regime feel vindicated. Whether Guardiola's really to blame, instead of bad luck, is impossible to determine with any certainty, but now that Rummenigge and co. are no longer trying to appease the manager at all cost, it's obvious that Bayern's instinct is to go back to whom and what they know.
Guardiola, who has proved very sensitive when he hasn't felt the club's full support in the past, will have noticed the subtle change of tone. Any more big-name casualties, and it'll be open season on the 45-year-old in the local press: without Bayern's protection and an effective counter-narrative -- "it's all Muller-Wohfahrt's fault" -- the amount of injuries that the team have suffered will take centre-stage in the post-mortem if the Champions League campaign doesn't culminate in final win in Milan.
Guardiola, one could sensibly argue, doesn't have to worry too much about the possibility of such negative PR at this moment in time. In any case, he will walk into his next job, most likely at Manchester City, regardless of the denouement of his third and final year in the Bavarian capital.
Bayern, by contrast, however, are rather worried right now. The loss of a crucial player at such a crucial time, with the rapidly-improving Juventus threatening to derail their Treble hopes as early as next month, has hit a raw nerve. Rummenigge's remarkably outspoken threat that the German FA should "back off" and not get involved in a discussion about the timing of Boateng's return betrays real frustration with the latest setback.
All national manager Joachim Low had done was to say that "the door would remain open" as long as possible to enable the Berlin-born defender to make it to the Euros with Germany. Innocuous stuff, really, unless Rummenigge was truly afraid that Low was putting undue pressure on the player to make it back in time for France. But if that was indeed the case, it wouldn't quite square with the Bayern boss's optimistic assessment that Boateng might be available by the end of April. Sometimes, angry people on the edge lash out at innocent bystanders who are simply in the wrong place at the wrong time.
Yes, you're right: This is all background noise, the low-level ruminations you only hear when the stadium's empty and silent between games. But that nervous static drifting out of Sabener Strasse hints at a more fraught atmosphere ahead. Guardiola will be more isolated going forward, tempers more easily frayed and patience thinner.
On the pitch, it remains to be seen just how dramatic Boateng's absence will prove over the next few months. Of all the Bayern players who have improved their game since the Catalan's arrival, the former Manchester City centre-back has taken the biggest steps forward. He's found consistency where there were frequent lapses of concentration and evolved into a de facto playmaker, the man who often starts the attacks with long, pinpoint passes. The injury-prone Holger Badstuber has a similar passing range, but he is not nearly as quick nor physically imposing.
Offensively, Bayern will be easier to work out and defend against as Xabi Alonso will be entrusted to play the first telling ball out from the back and the full-backs get involved earlier in the move. Defensively, Boateng's pace and spatial awareness have made him quite literally peerless and he will be sorely missed. The possible replacements -- Badstuber, Mehdi Benatia, Javier Martinez and David Alaba -- all bring something to the table, but not all of Boateng's qualities combined.
Will Guardiola opt for a more pragmatic setup, with a deeper line of defence, as a result? Some Bayern supporters who blame his dominant tactics for the two Champions League semifinal defeats, might welcome such a move. Alternatively, the coach might deduct that more is more when it comes to centre-backs and play with three of them now that his best man is out of action.
The good news amid all these question marks is that Guardiola will have five games to figure out a workable solution before the trip to Turin. Boateng's injury and the internal repercussions have made his task more complicated, and more urgent than anticipated, but there's grounds for optimism. In Guardiola, the complicated, enigmatic coach, Bayern happen to have the guy they themselves -- still -- trust most to come up with a smart tactical plan to offset their problems.
Raphael Honigstein is ESPN FC's German football expert and a regular guest on ESPN FC TV. He also writes for the Guardian. Twitter: @honigstein.