Rafa Benitez: No Cristiano Ronaldo problem after Real Madrid Clasico loss
Real Madrid coach Rafa Benitez is confident his side will bounce back quickly from their Clasico defeat to Barcelona, and says he has "no problem" with Cristiano Ronaldo despite reports the forward is unhappy.
Madrid were beaten 4-0 by Treble winners Barca at the Bernabeu on Saturday afternoon, having also lost their previous La Liga game 3-2 at Sevilla before the international break.
The manner of the defeats also led to fierce criticism from many local fans and pundits -- with club president Florentino Perez publicly backing the coach on Monday evening.
The Blancos coach told a news conference ahead of Wednesday's Champions League Group A game at Shakhtar Donetsk that the team had been playing very well before their last two games, and could return to that form quickly.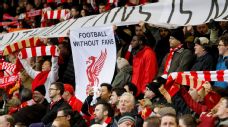 "These results had been very good, and even the first half in Sevilla was nearly the best half of the season," Benitez said. "If we were not playing well, we would not have gone 14 games unbeaten, and qualified two games early for the Champions League round-of-16.
"We are just talking about two games, two bad results. I am very positive, I have confidence in the team. We must move on and get back to doing things well as before.
"There is a lot of quality, a lot of professionalism, we just need to all row in the same direction and things will go well. We must work all together, from start to finish, so we do not have dips in games which are then difficult for us to react to."
Madrid star Ronaldo was booed by Madrid fans during Saturday's defeat, and has recently been linked with a move back to Manchester United amid reports that he issued an ultimatum to Perez regarding his future at the club if Benitez remained as coach.
But Benitez denied there were any issues with Ronaldo, saying: "[Cristiano] is a magnificent player, fundamental for us. I have no problem with him."
Lifelong Madrid fan Benitez said that he was not going to change his managerial style in reaction to criticism which he deemed to be unfair.
"As a madridista it hurts to lose any game, even more against Barca at Bernabeu," he said. "That hurts; not the criticism. I cannot control what is said. I am not going to change due to things that are said or written.
"Even when we are doing well we are criticised -- people say things which have not happened. We have to accept that, focus on our work, focus on our future. I am optimistic, I know the team is so good, that we can turn things around with some wins."
Benitez said he appreciated president Perez having publicly backed him, although he had never feared he would be sacked.
"I'm in football [for] many years, so I have a lot of confidence that two [defeats] do not ruin what we did before so well," he said. "The president has shown his responsibility, he is there to help us out, which is positive too. We must be all united -- that is the key for the team to achieve its objectives this season."
Madrid's poor performance in the Clasico has been analysed by the Blancos coaching staff, but Benitez said he would not share details beyond a need for the team to return to their early season form.
"We have analysed what happened," he said. "I agree that we made mistakes, but not that there was a lack of attitude. Our analysis is internal, but we will look for solutions to get back to how well we were doing before."
Injured defenders Sergio Ramos and Marcelo have not travelled to Ukraine for the game, and Benitez suggested he would also rotate his team after the weekend's exertions.
"When there are two games in a week, I like to rotate," he said. "We will give a chance to players who have shown their level on the pitch, which shows the competition within the squad."