Real Madrid back Rafa Benitez to continue as coach - Florentino Perez
Real Madrid president Florentino Perez offered his backing to under-pressure coach Rafa Benitez, while also saying reports that he has considered selling out-of-form galactico Cristiano Ronaldo are "lies."
Madrid were rocked by Saturday's embarrassing 4-0 La Liga Clasico defeat, a game which saw chants of "Florentino resign" from Estadio Santiago Bernabeu supporters who also whistled Ronaldo.
Amid speculation that Madrid's players -- including Ronaldo -- are unhappy with Benitez's management, there were reports that the club's B-team coach Zinedine Zidane was being lined up to take over.
However, the Blancos club chief said in a specially called news conference after a board meeting that the club would stand by Benitez, who was hired in June.
"We have analysed the sports situation. Real Madrid coach Rafa Benitez has all our support and trust," Perez said.
"The solution to this is Rafa Benitez. We signed him to turn things around. We think he is the right person. But we must let him work -- not listen to those making up lies that board doesn't want him, or the players don't want him.
"He has a good relationship with the players, with the board, and me in particular. We understand the anger of fans after Saturday, but ask for support for our players."
Asked about media reports suggesting all was not so happy in the Madrid camp, Florentino gave a lengthy, sometimes angry response to what he said were untrue stories about him in the local media.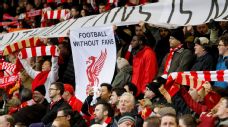 "It is not habitual for us to be permanently denying things. But I understand that there are some journalists who want to destabilise us," he said. "On Saturday, a sports paper from Madrid said that according to Radio Montecarlo I had dinner with the PSG president and -- what's his name -- [Ronaldo's agent] Jorge Mendes to talk about Cristiano.
"There are people who lie to damage Real Madrid. They think that, without me, they would have more influence in the club. I could say many more things.
"Never has Cristiano Ronaldo said to me 'With this coach, or this club, we will win nothing.' [Ronaldo] has never said anything about anyone, he is a good guy, all that comes out about me wanting to sell him, meeting with people, is people wanting to destabilise the club. It happens every day."
Twice in recent years, Perez has called news conferences to back an under-pressure coach, and both Jose Mourinho and Carlo Ancelotti left the club within months. Asked if he could confirm that Benitez would stay in his job long-term, Perez was less firm with his answer.
"I talk about this moment," he said. "I cannot say what will happen in future, nobody knows what will happen in six months' time."
Perez was clearer in saying that, in his view, the problems with the team began last January, when Ancelotti was on the bench.
"Since last January we have suffered a deterioration in the team, that is obvious," he said. "We chose Rafa with confidence he could turn it around. It is still very early, he cannot resolve everything overnight, but we have confidence he will sort it out. That's why we signed him."
Asked about the many Madrid fans who chanted for his resignation during Saturday's embarrassing Clasico defeat, Perez claimed that the chants had begun with members of the radical "Ultras Sur" group, which were banned from the stadium.
"The socios [shareholders] are those who run this club, I respect them a lot, of course," he said. "They have a very high level of demands, I understand that. Those shouting 'Florentino resign' -- there were a lot, I accept that, but it began with the same as always.
"Two years ago we tried to get the Ultras Sur out of this club, in the meantime they have tried to intimidate me, but they will not succeed."
Perez also denied that he had any influence on team selection by Benitez, who chose an uncharacteristically attacking galactico-heavy XI in his first Clasico in charge on Saturday.
"Rafa has full powers, nobody suggests him anything," he said. "I've been here since 2000 -- no coach has ever said I suggested anything to them. They all have autonomy. The squad has many very good players, it is difficult to choose sometimes. But he has full power to do whatever he considers right."
Perez also denied an AS report he was considering calling an immediate presidential election, for fear that a court ruling due on Wednesday would declare illegal changes in statutes made in recent years which make it very difficult for rival candidates to emerge.
"The judge will make his judgement," he said. "Then there could be an appeal. So nothing will happen on Wednesday. I am not going to call new elections. The statutes are in place, and will stay unless something else happens."