Chelsea striker Radamel Falcao calms fears over knee injury
Radamel Falcao has said the knee injury that sidelined him for the 2014 World Cup is not related to his current injury nightmare at Chelsea and says he continues to "work every day to play again soon."
Falcao, 29, has made just 11 appearances for the Blues in all competitions since arriving at Stamford Bridge on loan from Monaco in the summer, scoring one goal, and has not featured since picking up what former boss Jose Mourinho described as "an important muscular injury" in training in November.
In the wake of Mourinho's departure last month Falcao told the Colombian edition of Hola! magazine that he expected to be given more first-team opportunities at Chelsea in the second half of the season, but interim manager Guus Hiddink subsequently revealed that the striker had suffered a "very serious" setback in his recovery from a thigh injury.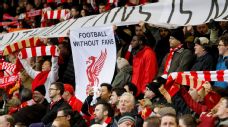 Monaco opted not to recall Falcao from loan after assessing his condition but the Colombian may still leave Stamford Bridge in January as Chelsea near a deal to bring striker Alexandre Pato from Corinthians.
The Colombia international was widely considered one of the deadliest goal scorers in world football prior to rupturing his anterior cruciate ligament for Monaco in January 2013, but Falcao insists that injury has nothing to do with his more recent problems.
"There is no relationship with my knee -- this is something purely muscular," he told Colombian magazine Semana.
"I was coming back from a muscular injury, but what has happened now is that during a training session I slipped and had a small recurrence. It could happen to anybody.
"My knee has recovered. The problem is since then I have not had the chance to play a whole season to get back my confidence and become competitive again.
"I'm focused on getting healthy and try not to destabilise myself. People talk a lot, but they also say some positive things and I try to welcome those messages because they encourage me and give me what I am looking for."
Earlier this month, Monaco vice-president Vadim Vasilyev claimed that Falcao's recovery could take up to two months, but the Colombian is determined to return to action sooner.
"It will be less," he said. "I work every day to play again soon."
Liam is ESPN FC's Chelsea correspondent. Follow him on Twitter: @Liam_Twomey.