Legia Warsaw to appeal UEFA decision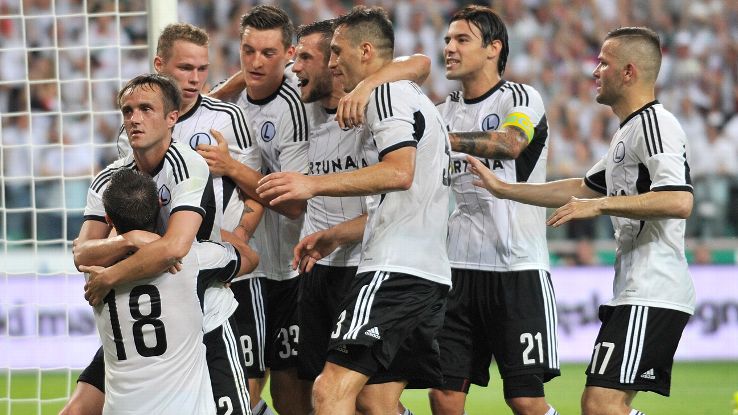 Legia Warsaw coach Henning Berg has confirmed the club will appeal their expulsion from this season's Champions League, claiming UEFA's move to reinstate Celtic into the competition "goes against fair play."
- Champions League playoff draw
- Europa League playoff draw
The Polish champions saw their place in the playoff round taken away after using defender Bartosz Bereszynski in the third qualifying round second-leg clash with Celtic at Murrayfield on Wednesday, in a tie which ended in a 6-1 aggregate win for Berg's side.
Legia failed to register Bereszynski for their first game in this season's Champions League against Irish side St Patrick's Athletic as he was serving a three-game suspension from a red card he received in last term's Europa League.
However, they did not realise that his omission meant he was also barred from playing against Celtic in the next round.
Berg and his club were convinced Bereszynski could play against the Bhoys after serving his suspension, but the administrative error has cost Legia a potential cash windfall in the event that they were to qualify for the Champions League group stage.
"We will appeal it all the way," Berg told Sky Sports. "We will go as far as we can because we don't think this is the right decision.
"It is strange, we are absolutely distraught. For UEFA to make a decision like this, the consequences are unbelievable. It is very, very difficult to take. This goes against everything regarding fair play and fair competition.
"European football should be about fair competition and when a technical error is with administration, it's unfortunate.
"This decision is not in the interest of football. We have financial fair play rules and clubs get fined if they break them. For us to get this punishment for a small technical error, it is devastating for the players.
"There has not been a Polish team for 17 or 18 years [in the Champions League] and we felt we had a good chance, but it has been taken away from us because of this small technical error and the UEFA decision.
"This would have been a dream for these players and for this club. We have worked so hard to get to this position, playing two fantastic games against Celtic and everything is taken away.
"We acted in good faith. We made a mistake in the administration for the two games."
Former Manchester United defender Berg went on to highlight the case of when UEFA let Debrecen off the hook for fielding an ineligible player.
"There has been a case like this before in 2010 with Debrecen," he said. "They used a player that was not eligible, but UEFA decided they acted in good faith and the result was not affected. So for them to make a different decision this time and the consequences, it's very difficult. We think this is inconsistent."
Time will not be on Legia's side as they plan their appeal, with Celtic set to play the first leg of their Champions League playoff tie against Slovenian side Maribor on Aug. 20.
Legia are currently due to face Kazakhstani club Aktobe in the Europa League playoff round, with the first leg set for Aug. 21.