Sebastian Giovinco ruled out for Toronto's match against Vancouver
Sebastian Giovinco is unavailable for Toronto FC's upcoming match against the Vancouver Whitecaps on Saturday after sustaining a leg contusion in last weekend's match against the Philadelphia Union.
Giovinco went down after a hard challenge from Union defender Oguchi Onyewu in the 44th minute of his team's 2-2 draw, with Toronto coach Greg Vanney saying the 2015 Major League Soccer MVP was "sore" after the match.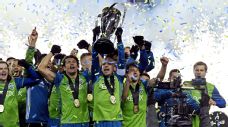 Subscribe to MLS LIVE today!
- MLS LIVE is back with an all-new platform for 2017
- Get the most matches ever, LIVE and ON DEMAND
- Packages start at only $14.99 a month
- Watch MLS on your phone, computer or TV
- Subscribe today at live.mlssoccer.com
The Toronto Sun reports that Giovinco has returned to Italy -- a trip that had been planned for the upcoming international break before he sustained the injury -- for an appointment with his personal physician.
Following the Union match, Vanney said: "It's the outside of the quadriceps. It's a charley horse, a contusion. But it's on the IT band which runs down the outside of the leg. When that tightens up it's really difficult to move with any sort of freedom."
Toronto travels to the western coast of Canada to face Vancouver, having drawn its first two matches of the season after advancing to the MLS Cup final in 2016 where the team was defeated by the Seattle Sounders.
Follow @ESPNFC on Twitter to keep up with the latest football updates.