Toronto FC's Sebastian Giovinco 'sore' after picking up leg injury
Toronto FC star Sebastian Giovinco was "OK" but "sore" after leaving Saturday's game against the Philadelphia Union with a leg contusion.
Giovinco went down under a hard challenge from Union defender Oguchi Onyewu in the 44th minute of the 2-2 draw.
The 2015 MLS MVP had to be helped off the pitch after receiving treatment, and the club said he had suffered a leg contusion.
Toronto coach Greg Vanney said that Giovinco would be evaluated over the coming week.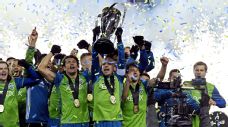 Subscribe to MLS LIVE today!
- MLS LIVE is back with an all-new platform for 2017
- Get the most matches ever, LIVE and ON DEMAND
- Packages start at only $14.99 a month
- Watch MLS on your phone, computer or TV
- Subscribe today at live.mlssoccer.com
"He's OK. He's sore. It was a contusion on the IT band around the side of the leg," Vanney said after the match. "When that gets swollen and tightened up, it's tough to loosen up and move. We'll see how he progresses over the next couple of days.
"It's the outside of the quadriceps. It's a charley horse, a contusion. But it's on the IT band which runs down the outside of the leg. When that tightens up it's really difficult to move with any sort of freedom."
Tosaint Ricketts came on to replace Giovinco , but before he could even take the pitch, Jozy Altidore drew and converted a penalty to bring Toronto level at 1-1.
Follow @ESPNFC on Twitter to keep up with the latest football updates.