Marseille boss Michel unsure when Abou Diaby will be able to make debut
Marseille manager Michel has said he does not know when former Arsenal midfielder Abou Diaby will be fit enough to make his debut, and is even unsure whether he will play for them this season.
Diaby, 29, joined the French club in the summer following a nine-year spell with the Gunners that was marred by frequent injury problems.
The ex-Auxerre player has since been working his way back to full fitness in the south of France, but Michel told reporters at the weekend that he had suffered another setback.
"He's been training with us but he felt some discomfort," L'Equipe quoted the Marseille boss as saying.
"It's up to the doctor to talk about him. I would like to talk about his performances, but unfortunately it's not possible. I hope that will be the case one day -- he deserves it."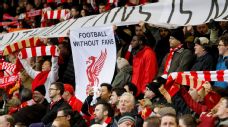 When asked whether Diaby would be able to feature for Marseille this season, the Spaniard said: "I don't know."
But he stressed that if his club dipped into the winter transfer market it would be nothing to do with concerns over Diaby's future.
"It's not a position where we have to strengthen because it's his," he said.
"Obviously if there's an opportunity [to improve the midfield], we'll profit from it, but it will not be to replace him."
Diaby was omitted from Marseille's Europa League squad in September, but Michel said soon afterwards that he hoped the ex-France international could make his debut in October.