Liverpool to feature much-changed squad for FA Cup - Jurgen Klopp
Jurgen Klopp has said he will field a much-changed side for Saturday's FA Cup tie against West Ham after Liverpool's exhausting cup heroics in midweek, though the manager denied he was determined to strengthen his stretched squad.
Klopp's options continued to be complicated by injury and fatigue, with captain Jordan Henderson in need of rest because of the workload he had endured since returning to the side last month.
A heel injury had kept him out since August and Klopp said the midfielder was still feeling discomfort after being substituted after an hour of Wednesday's Capital One Cup semifinal win over Stoke on penalties.

Liverpool
West Ham United
Game Details
On the plus side, centre-back Dejan Lovren could make his comeback on Saturday from a hamstring strain, which has ruled him out since the semifinal first leg at Stoke on Jan. 5 -- while Philippe Coutinho is not ready to play but has made progress.
Nathaniel Clyne will be assessed further before Klopp picks his side to face West Ham, but he said his FA Cup team would again feature some younger faces.
"We have to make changes, we will make them, but only because we want to win the game," he said. "That's the only reason.
"When I think about the Exeter [FA Cup] game at Anfield, it was great: Atmosphere was great, unbelievable, sold out, perfect. Hopefully it will be sold out again against West Ham. The boys who will be on the pitch, they will give everything."
Klopp also said Liverpool's spate of injuries is the only reason he has been looking at possible acquisitions during the winter transfer window.
The manager would again not be drawn on the prospect of signing Alex Teixeira from Shakhtar Donetsk on Friday, but with the window closing on Monday, Klopp maintained that he had never planned to make significant changes in January and would work with what he had.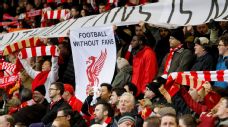 He said: "Plan? As I said, we are always busy, we're always at work, we always check the possibilities. That's what we did since I am here, and now it's close to closing the window, so if something happens we will see.
"But there's nothing to say about this in this moment. If we would be close to something, everything I could say now would disturb this, and if not, it's the same situation. So nothing to say.
"You have to wait, like I have to wait, and I have no problem with this. I am fine with the squad; the squad was never a problem, not one second. It's only all about injuries and the number of games -- it doesn't fit too good. We thought about a few things but only if it really makes sense."