Liverpool target Alex Teixeira has €70 million clause - Shakhtar Donetsk chief
Shakhtar Donetsk chief executive Sergei Palkin has said Liverpool target Alex Teixeira has a release clause in his contract of €70 million (£53m).
Palkin confirmed Liverpool's offer for Teixeira and said the clubs were some way apart in their valuations.
He also said that Shakhtar needed the attacking midfielder for the rest of the season -- but hinted that he may leave in the summer.
"Liverpool stopped after an offer of €32m (£24m) and a €4m (£3m) bonus," Palkin told Ukrainian television channel Football 1, reported Soccer.ru.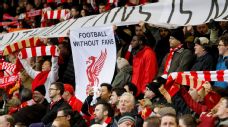 "We obviously refused to accept it. This is the last number that was announced. Our position is that we do not want to sell Teixeira today.
"We will sell him only at the end of the season. We need to have some good results in the Europa League and the Ukraine championship.
"At the end of the season we will sit down at the negotiating table. Teixeira has a compensation charge in his contract -- the price is €70m (£53m).
"Please, if someone wants him -- let them come and declare themselves."
Palkin added that Liverpool manager Jurgen Klopp had taken a personal interest in trying to persuade the player to move to Anfield.
"I am sure that without the agreement of Klopp there would not be a discussion with Liverpool. He wants to have a personal meeting with Teixeira in Liverpool," he said, in quotes reported by Eurosport.
Liverpool chief executive Ian Ayre last week flew to Florida -- where Shakhtar were based for a mid-season training camp -- to try to negotiate a deal to sign Teixeira, sources told ESPN FC.
Teixeira then went public with his desire to move to Merseyside in January with an interview given to Anfield HQ, in which he said playing for Liverpool would be "an honour."
He said: "I know my agent is still attempting everything possible to help get me to Liverpool.
"It was a great offer. It's frustrating. But the manager and club president decided against it, so now I'm just waiting, trying to be patient. I want to be at Liverpool, but that is up to the club president now. I can only hope. I don't know what else to say.
"It is a huge club -- so many great players have passed through there. It would be an honour to defend the Liverpool shirt."
Information from the Press Association was used in this report.
Tom is ESPN FC's Liverpool correspondent. Follow him on Twitter @writertombell.