Massimiliano Allegri shouldn't leave Juventus for Chelsea - Beppe Marotta
Juventus general manager Beppe Marotta does not see any reason why coach Massimiliano Allegri would want to move to Chelsea, saying that he is already at a big club.
Allegri, who led Juve to a Serie A and Coppa Italia Double last season, as well as to the final of the Champions League, is the latest manager to be linked with the Blues ahead of next season.
The 48-year-old stated at the weekend that he is happy in Turin and is only focusing on the task in hand, insisting that nothing else matters right now.
That, however, has not stopped the speculation surrounding Allegri and Marotta says he would have to think long and hard before accepting any offer for his coach.
"Chelsea are a top club and it's obvious that they are evaluating coaches who are worthy of working there, but all I can say is that Allegri is already at a top club and if I were him, I would think twice before leaving Juventus," Marotta told Mediaset television.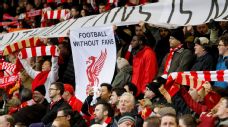 "We speak with Allegri every day and we have a relaxed relationship with him, and there are all the conditions to continue working with this coach."
Allegri's contract expires in 2017, but another Italian who has been linked with the Chelsea job -- Italy coach Antonio Conte -- is available to take over in the summer.
"Conte and Allegri are both top coaches and considering Chelsea are a top club, they could be among the candidates," Marotta added. "I wouldn't know what Conte's plans are for the future, but clearly 'made in Italy' is still a big draw in the coaching market."
Conte's contract as Italy coach expires after Euro 2016 and he seems set to return to club coaching next season.
He led Juve to three straight Serie A titles before walking out on the side in preseason 18 months ago and became Italy coach just weeks later.