Massimiliano Allegri: Chelsea manager links 'normal' if you coach Juventus
Juventus coach Massimiliano Allegri has played down reports linking him to Chelsea as "normal," and says he is focusing on his role with the Serie A champions.
Allegri has been repeatedly linked with a switch to the Premier League title holders as Chelsea search for a full-time replacement for Jose Mourinho, who departed in December.
Guus Hiddink returned for a second caretaker spell at Stamford Bridge last month after Mourinho was sacked by Roman Abramovich for the second time, having presided over a disastrous start to the season.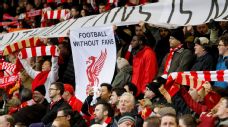 Southampton boss Ronald Koeman has spoken of his desire to replace Hiddink this summer, but Allegri is focused on trying to lead Juve to a fifth successive Scudetto.
"My thoughts are on the championship, the Italian Cup and the Champions League," Allegri told reporters on Friday ahead of Juve's league game at home against Roma.
"I have a contract with the club until 2017 and I feel good here."
Asked about the speculation linking him with Chelsea, Allegri replied: "It feels normal. When you coach a team like Juventus, that's the way it is. But I'm fine here and it's only normal that my focus is on what I have to do here."
The Juve boss joins Pep Guardiola, Diego Simeone, Antonio Conte and Manuel Pellegrini as potential contenders to take the Chelsea role on a permanent basis this summer.
Allegri took over at Juve in July 2014, and proved his doubters wrong by leading the Bianconeri to the Serie A title, a Coppa Italia triumph and the Champions League final in his first full season in Turin.
Juve started the current campaign poorly, but have recovered with 10 consecutive wins to climb to within two points of league leaders Napoli.