Luis Suarez 'cannot be defended'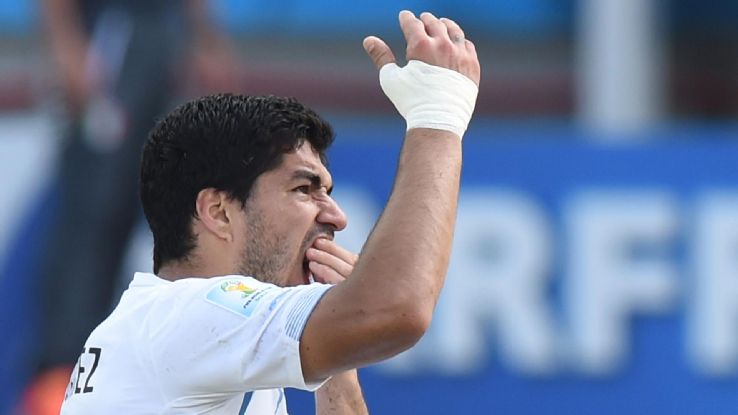 Liverpool legend Robbie Fowler has said he believes Luis Suarez could leave Anfield in the wake of the World Cup biting controversy and insisted: "You can't defend him."
Striker Suarez is being investigated by FIFA after appearing to bite Italy's Giorgio Chiellini as Uruguay progressed to the round of 16 with a 1-0 victory.
The 27-year-old was banned for 10 matches after biting Chelsea defender Branislav Ivanovic during a 2-2 draw at Anfield in April 2013, and sidelined for seven matches for biting an opponent while playing for Ajax in 2010.
And after watching the latest controversy to engulf him, Fowler said it could be time for him to move on.
"You can't defend him. He's continually dragging the club's name through the mud," he told The Sun.
"I wouldn't be surprised if Suarez left now. He's a different person on the pitch and you can't condone what he's done.
"I'm flummoxed. It's not right, especially after the club helped him last time [after the Ivanovic incident]. They tried to rehabilitate him."
Phil Thompson, another Anfield favourite who captained the Reds to the 1981 European Cup, blasted Suarez for bringing "embarrassment and shame on our club."
"This was a kick in the face when you think of the massive support the guy has had from manager Brendan Rodgers, owner John Henry and the Liverpool fans," the paper reported him as saying.
"It's happened on the international stage, and everyone is looking at this and wanting to see what happens. For him to do this is a massive shock. It's disgraceful, to be honest."
Suarez faces a lengthy ban from international football, and FIFA has the jurisdiction to extend that punishment to whichever domestic league the striker -- heavily linked with Barcelona in recent weeks -- is playing in next season.
World football's governing body has said his previous record of biting may be used in evidence against him when disciplinary chiefs consider the Chiellini case.
Former Manchester United star Paul Scholes said the 10-game ban Suarez received for the Ivanovic bite had been insufficient to deter him from doing the same again and added: "On Tuesday, he embarrassed his club, country and family.
"Banning him for the rest of the World Cup is not enough. People will now remember Suarez for his biting antics rather than his supreme footballing ability."
Defending Wimbledon tennis champion Andy Murray said he had found the incident "really weird" and "just wrong," with The Guardian quoting him as saying: "I don't know how that would come into your thinking. Well, obviously he's not thinking -- there's something not quite right there, because I think it's the third time he's done it now.
"You can understand sometimes someone lashing out or whatever, but the biting's far too much."
Former Germany goalkeeper Oliver Kahn, embroiled in a biting storm of his own after an incident in a Bayern Munich-Borussia Dortmund match in 1999, said he believed extreme pressure could have contributed to what happened with Suarez.
The Sun reported the 45-year-old as saying: "That kind of behaviour is usually associated with animals. In my mind, that's the wrong way to channel your internal tensions.
"We saw in the match against England that he was nearly crying. Perhaps that behaviour was a last desperate attempt to release some of the enormous pressure building up inside him and it was the only way to let some of the tension out.
"For me, there's no other explanation."