FIFA: Luis Suarez past could be factor
Luis Suarez's previous record for biting may be used in evidence against him when disciplinary chiefs consider the case against him for allegedly biting Italy's Giorgio Chiellini, FIFA has confirmed, as his disciplinary hearing heads into a second day.
Suarez's lawyer Alejandro Balbi, who is also a Uruguay FA board member, has travelled to Rio de Janeiro to defend the Liverpool striker and has suggested there is a European campaign against him led by England and Italy.
The case is expected to be dealt with swiftly and an outcome announced well ahead of Uruguay's match with Colombia on Saturday. Suarez's sponsors including adidas are keeping a close eye on the outcome.
FIFA spokeswoman Delia Fischer said the disciplinary committee meeting was already underway on Wednesday evening.
The video evidence appears damning and one senior FIFA official with experience of disciplinary cases, who asked to remain anonymous, believes the biting should be judged to be at least as serious as spitting, which carries a minimum six-game ban which would see Suarez's World Cup brought to an abrupt end.
The independent disciplinary panel, chaired by Swiss lawyer Claudio Sulser, has a range of sanctions available up to a 24-match ban or a two-year suspension from all football. A worldwide ban would impact on his playing for Liverpool but there is no precedent for such a sanction happening.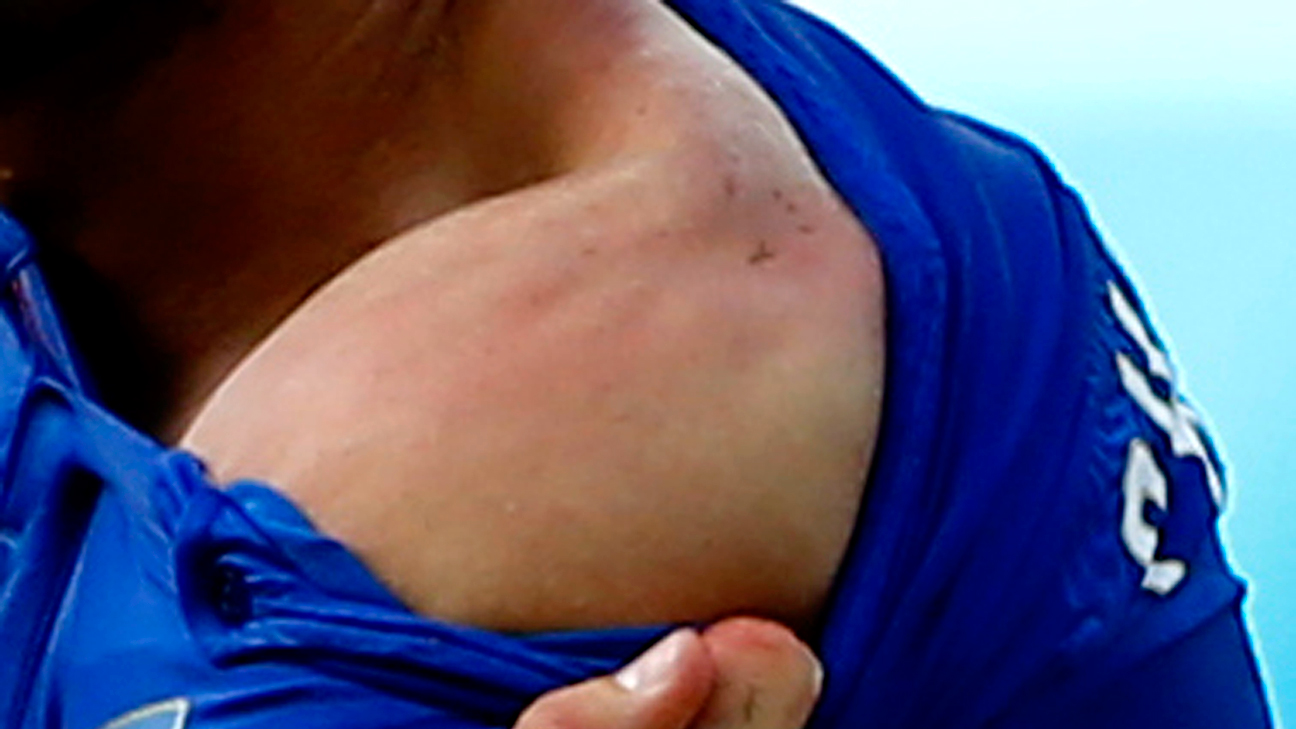 It remains unclear whether Suarez's previous biting bans -- 10 games for biting Chelsea's Branislav Ivanovic and seven matches for biting PSV Eindhoven's Otman Bakkal -- would be taken into consideration, but the panel do have that power if they wish.
A FIFA spokeswoman said: "They can take in all elements they deem necessary."
Suarez was not due to appear in person at the disciplinary hearing, but his lawyer and Uruguay FA president Wilmar Valdez will present his defence.
Valdez emerged from the Copacabana Palace hotel in Rio de Janeiro shortly after midnight local time to say the hearing would continue on Thursday.
"We know they met for a long time but we don't know if that means a good or a bad situation," he said. "They will continue in the morning."
Uruguay FA delegate Ernesto Dehl, who is also president of Uruguay club Cerro Largo, said that Suarez's defence would be based around the intent behind the incident rather than disproving it.
"The defence is based around there not being any bite," he told Ovacion, summing up a 17-page dossier including videos, images and legal arguments based on context and a reading of the regulations. "That it was an accidental play, where the player lost his balance and the collision happened. There could have been a bang in the neck, in the shoulder. That is what you see, a collision, nothing else."
Valdez added on Uruguay TV Canal 10, in quotes also carried by Ovacion: "We understand that there is not sufficient proof to really apply a punishment to Luis.
"We are preparing another video of the game, in which we have discovered that there were other behaviours similar to that of Suarez in the game, which did not generate the same reaction in the media.
"There was one clear [incident], beside the Italy substitutes bench, where Luis fell after being hit by an Italian defender. When he fell on the ground he was insulted by a number of substitutes and assistants who came off the bench to abuse him. That and other situations which we have found were not denounced, and could also be used to open other cases too."
There are also reports that they will claim pictures of teeth marks on Chiellini's shoulder were digitally altered. Suarez's lawyer suggested there was a conspiracy against his client.
Balbi told Uruguayan radio: "We don't have any doubts that this has happened because it's Suarez involved and secondly because Italy have been eliminated. There's a lot of pressure from England and Italy.
"There is a possibility that they ban him, because there are precedents, but we're convinced that it was an absolutely casual play, because if Chiellini can show a scratch on one shoulder, Suarez can show a bruised and an almost-closed eye.
"If every player starts showing the injuries he suffers and they open inquiries for them everything will be way too complicated in the future. We're going to use all the arguments possible so that Luis gets out in the best possible way."
Suarez and the Uruguayan FA had been given until 5pm local time (9pm BST) on Wednesday to provide evidence to support his case after the incident in the latter stages of the Group D encounter in Natal, which Uruguay won 1-0 to secure a last-16 clash against Colombia.
Suarez defended himself on Uruguayan television after the flashpoint, saying: "These situations happen on the pitch, we were both just inside the area, he struck me in the chest with his shoulder and he hit me in the eye as well."
Chiellini, however, insists that Suarez knew exactly what he was doing and was dismayed that he was not sent off for his apparent actions.
The 29-year-old defender told Rai TV: "It was ridiculous not to send Suarez off, it is clear, clear-cut and there was the obvious dive afterwards because he knew very well that he did something that he shouldn't have done.''
FIFA's disciplinary committee met immediately after the match and announced in the early hours of Wednesday that Suarez has been charged with misconduct.
Suarez is sponsored by adidas who, following his previous biting incident with Ivanovic, reminded the striker of his responsibilities. Executives from the sportswear manufacturer met in Rio to discuss the latest incident on Wednesday.
An adidas spokesperson said: `"adidas is aware of the issue involving Luis Suarez. We await FIFA's full investigation into this matter and will respond accordingly.''
Uruguay captain Diego Lugano defended Suarez at a press conference in Natal, insisting he had the support of all his teammates.
The defender said: "The pictures don't show anything. They show an approximation. I find it funny the importance given to an isolated incident when no one pays attention to incidents which endanger the health of players.
"Luis has charisma and he creates an advantage. An opponent tries to take it away, of course - that's as old as the game itself."
Information from ESPN FC's Spanish correspondent Dermot Corrigan, the Associated Press and the Press Association was used for this report.