Chelsea striker Patrick Bamford should get chance to shine - Ray Wilkins
Patrick Bamford should be given a chance to score goals for Chelsea with both Loic Remy and Radamel Falcao struggling with injuries, club legend and former assistant manager Ray Wilkins has said.
Falcao has been sidelined with a muscle problem since coming on as a substitute in Chelsea's 3-1 home defeat to Liverpool on Oct. 31, and interim manager Guus Hiddink revealed last week that he would not return to training until the middle of January.
Meanwhile, Remy is expected to be fit to face Scunthorpe in the FA Cup third round at Stamford Bridge on Sunday if required after recovering from a calf injury.
But the Frenchman has started just three matches this season and has been linked with a loan move to Aston Villa, Newcastle or Crystal Palace.
Diego Costa has returned to form under Hiddink, with three goals in his last two Premier League matches, but Wilkins believes Bamford -- back at Stamford Bridge having cut short what he called a "terrible" goalless five-month loan at Crystal Palace -- could be the ideal solution.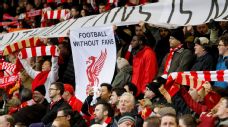 "I think they need another forward," he told Sky Sports. "Loic Remy seems to be injured on numerous occasions and he's never available for selection.
"I look at Chelsea and Patrick Bamford, for example. When a side like Chelsea are playing to the ability that they have I'm sure you can throw a young man in and give him an opportunity to play.
"I'm sure Bamford, who scored 19 goals for Middlesbrough in the Championship last season, would score goals for Chelsea because he is a very bright human being.
"OK, he's not the quickest but given the opportunities that Chelsea create I think he could score a goal. Now, whether they let him back out on loan, I've no idea -- but if they do then I think they have to strengthen."
Last week, Hiddink refused to rule out the possibility of Chelsea using the January transfer window to bolster their attacking options, and numerous reports in recent days have linked them with a £30 million move for Shakhtar Donetsk attacking midfielder Alex Teixeira.
Liam is ESPN FC's Chelsea correspondent. Follow him on Twitter: @Liam_Twomey.