Chelsea striker Radamel Falcao move in January not ruled out by Hiddink
Guus Hiddink has refused to rule out the possibility of Radamel Falcao leaving Chelsea in January but confirmed that the Colombian has suffered a setback in his recovery from injury.
Falcao has not featured for Chelsea since coming on as a substitute in a 3-1 home defeat to Liverpool on Oct. 31, having picked up what Jose Mourinho described as "an important muscular injury" in training.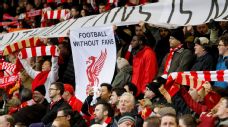 The Colombian -- who has scored just one goal in 11 appearances in all competitions for Chelsea since joining on a season-long loan from Monaco last summer -- revealed earlier this week that he wants to stay at Chelsea and fight for a first-team place in the second half of the season.
But Hiddink would not be drawn on reports linking Falcao with an early return to Monaco or move elsewhere in the new year.
"To my knowledge [Monaco] have not contacted us," Hiddink told reporters. "I don't want to go into it. We have an open period from the first until the last day of the January window, so it's not good in this case to talk in advance.
"Things might be done. When you want to reinforce your squad or other clubs want to do so, first of all you speak directly to your own management and the management who is responsible for the other candidate. That's the right way to do it, and not go through the side door."
Falcao returned to training at Cobham in early December, but Hiddink has confirmed that the 29-year-old has aggravated a problem in his thigh that will sideline him from training until January.
"We had him in a [training] game and all of a sudden he got again an injury he has had before," Hiddink revealed. "He didn't appear [for training on Wednesday], he's back inside for treatment. He was out, the medical staff were trying to build him up, then he had a setback. It's not always possible to signal but we hope that within 10 days he will be fit again [to return to training]."
Hiddink also criticised Aston Villa boss Remi Garde, who earlier on Wednesday admitted that he is interested in bringing Chelsea striker Loic Remy to Villa Park on loan in January. "From our point of view, I don't think me or the management will go into a similar situation," he added.
"You have to respect that when players are there, and if you are interested, you go to the people where they are contracted -- in the clubs. The player has signed a contract and must be fit for us. He's having a difficult time regarding his injuries, and first of all he has to prove he is a good Chelsea player."
Remy will miss Chelsea's Premier League clash with Crystal Palace on Sunday, but Hiddink is optimistic that the Frenchman will be available for selection again soon.
"Remy will be ok in a few days," Hiddink insisted. "I don't know for the weekend but he will be OK soon after."
When asked if Remy and Falcao's ongoing injury issues could draw Chelsea into the transfer market for a striker, Hiddink added: "If it's a longer period of instability regarding the recovery of strikers and we just have Diego, I will see."