Borussia Dortmund limit fan numbers at Dubai training camp
Borussia Dortmund have capped the number of fans attending their training sessions in Dubai to 25.
The club told ESPN FC they were asked to limit the number of fans because of some of had been on the crown prince's private property.
BVB flew out to Dubai for their winter training camp last week for the first time in their history.
The Bundesliga club had spent the previous winters in Spain but opted to head to the Gulf state this season, with sporting director Michael Zorc saying on the BVB website that the decision was down to a desire to "provide new stimuli" as well as the club's "internationalisation strategy."
Dortmund have faced criticism from fans and politicians for visiting the state amid questions over the human rights situation in the United Arab Emirates, but the club's supporters in the region had shown their enthusiasm in attending training sessions.
However, they announced on Monday that the number of fans permitted to attend the sessions had been significantly restricted.
Sorry we don't accept applies for the public trainings in Dubai anymore. Not more than 25 visitors are allowed at NAS Sports Complex.

- Borussia Dortmund (@BVB) January 11, 2016
The club said that this was "a general statement" and did not apply only to Monday's session.
Prior to the training camp, BVB had already announced that fans willing to attend the training session needed to register with the club.
Ehab Al Hajou, a Dubai resident and Borussia Dortmund fan since the mid-1990s, told ESPN FC that over 50 fans attended the previous sessions, to which they were shuttled from a nearby hotel.
He said the club informed fans on Sunday that they will no longer be able to attend the training because of "an incident" during a previous session.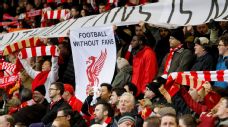 "It's disappointing since only yesterday Pierre-Emerick Aubameyang joined the squad," Al Hajou said, adding that fans had travelled to Dubai from Oman and Qatar to see the BVB players at work and were now left unable to attend the training.
A Dortmund spokesperson told ESPN FC: "Due to construction works at the NAS Sports Complex in Dubai, only a small, restricted, sun-protected area next to the training ground is designated for visitors. Beverages are also available."
The spokesperson said they were asked by the hosts to limit the number of visitors prior to the training camp and, asked about the "incident," added: "Because some fans most recently sojourned at the private property of the crown prince, we met the owner's kind request to reduce the number of fans per training session in accordance with the local conditions."