Bayern Munich 'going through a bad patch' with injuries - Karl Hopfner
Bayern Munich president Karl Hopfner admits the club are "going through a bad patch" as they continue to struggle with injuries.
The Bavarians have been hit hard by injuries in recent months -- Medhi Benatia has seen more of the club's rehab facilities than the pitch, while Javi Martinez has been struggling for fitness ever since tearing his anterior cruciate ligaments prior to the 2014-15 season.
Franck Ribery was out for much of 2015, Mario Gotze has only just resumed team training following a groin injury sustained in October, and players such as Arjen Robben, Philipp Lahm, Holger Badstuber and David Alaba have also been sidelined at times season.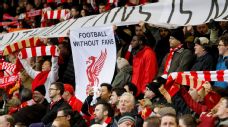 In January, Jerome Boateng sustained a "severe" groin injury, which will see the Germany international sidelined for several months, and on Tuesday, Martinez underwent surgery on his knee. He is expected to return to the team in March.
All of this has led to renewed discussions as to whether Bayern coach Pep Guardiola has had his part to play in the injury problems and rushed players such as Franck Ribery back too quickly despite a lack of match fitness.
Last week, several papers reported that former club doctor Hans-Wilhelm Muller-Wohlfahrt is to return to the Allianz Arena once Guardiola has joined Manchester City in the summer. The pair reportedly fell out last April when Muller-Wohlfahrt and his entire staff left the club.
"Pep Guardiola is very well asking for advice from our medical department, and he listens to it. Maybe we are only going through a bad patch," Hopfner told Sport Bild.
Hopfner, however, said that the injury problems are annoying, adding: "It's a great shame. Honestly, I have to say that it's especially bad for Jerome Boateng."
With Boateng and Martinez ruled out, and Benatia still working towards another comeback, Badstuber had been the only established centre-back available to Guardiola until Bayern signed Serdar Tasci on loan from Spartak Moscow on Monday.
The former Stuttgart player completed his first training session at Bayern on Tuesday, and is set to meet his new teammates on Wednesday when Guardiola begins preparing for Saturday's trip to Bayer Leverkusen.
"It's all really super," Tasci told Bayern's official website. "It has everything that marks out a truly top club. I'm overjoyed and I'm really looking forward to training with the team tomorrow. I just want to go for it now."