Javier Hernandez comments don't worry Bayer Leverkusen
Bayer Leverkusen officials are not overly concerned with recent statements from Javier "Chicharito" Hernandez, which suggested that he could leave the club at the end of the season.
The 27-year-old Mexico international told reporters earlier this week that "you can never know what happens" in football, and citing his recent history of changing clubs left room for speculation on his future beyond the summer.
Hernandez said: "We will see. Just look at my last three years. I have played at Real Madrid, Manchester United and I am at Leverkusen now."
He added that in football "everything can be different in six months," but confirmed that he's delighted to "be at this outstanding club," for whom he has scored an impressive 19 goals in 22 outings.
Hernandez has been meeting with fans and reporters during the club's stay in Orlando for the Florida Cup.
¡@CH14_ le dio algunos consejos a 'Lalito' para el futuro! Así fue como se conocieron. #B04goesUSA pic.twitter.com/NTDTYzwT7P

- Bayer 04 Leverkusen (@bayer04_es) January 13, 2016
However, Bayer bosses have reacted with calm, and said that they don't fear losing the attacker in the summer.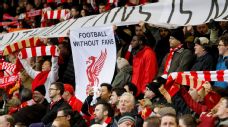 "He knows what he has here," the club's sporting director Rudi Voller said in Bild.
And squad manager Jonas Boldt noted that at Leverkusen Chicharito has the trust of the coach.
"He actually only addressed the fast-moving nature of football. What is important is that everything is in our hands, and we can decide."
Coach Roger Schmidt added: "I wasn't surprised. Chicha[rito] was just being honest, because the football business is just like he said it is."