Javier Hernandez coy about his future at Bayer Leverkusen
Javier "Chicharito" Hernandez has offered a guarded response when asked about his Bayer Leverkusen future.
"You can never know what happens," the Mexico international told reporters at Leverkusen's winter training camp in Orlando.
Hernandez, 27, joined the club from Manchester United during the final days of the 2015 summer window, when he felt he little chance of getting into the United team under manager Louis van Gaal.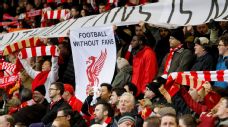 Leverkusen paid a reported transfer fee of €12 million, and Hernandez has since paid back them back with 19 goals in 22 games. He has also boosted Bayer's profile on the North American market.
But speaking to reporters at the training camp in Orlando, the player did not commit to the Bundesliga club, where he is under contract until 2018.
"We will see," he said. "Just look at my last three years. I have played at Real Madrid, Manchester United and I am at Leverkusen now.
"My goal is to play a good second half of the season. I am delighted to be at this outstanding club. In this sport, it does not matter whether you sign a 10-year contract or extend the contract 10 times by one year at a time.
"Everything can be different in six months, or you play at one club for 10 years."
Hernandez has already been linked with a Premier League return this winter.
But Leverkusen ended speculation of a switch to Arsenal when the club's sporting director Rudi Voller said that they would "definitely keep those players we want to keep in order to achieve our goals."