Barcelona would beat Bayern Munich in Champions League - Paul Scholes
Former Manchester United midfielder Paul Scholes believes Barcelona would defeat Bayern Munich if they meet in the Champions League, although he says the current Blaugrana side would come up just short to Pep Guardiola's legendary team.
Scholes, who lost two Champions League finals with United against Guardiola's Barca in 2009 and 2011, says Bayern are a stronger team this season to last year.
However, he would back Luis Enrique's team, who thumped rivals Real Madrid 4-0 on Saturday and Roma 6-1 on Tuesday, to see off the German champions should they meet in Europe's elite club competition later this term.
"We're talking about Bayern Munich being the team that are closest to Barca, and Barca destroyed Bayern Munich last year," he told ESPN FC from the BT Sport green room in London, where he was analysing this week's Champions League. "They were much better than them.
"Have Bayern Munich changed anything to get closer? They brought Douglas Costa in, who looks a good player. I don't think they had [Franck] Ribery or [Arjen] Robben last year, Robben's come back. If they do come across each other, it could be interesting. You have to fancy Barcelona."
Scholes added: "Barca and Bayern are, I think, miles ahead of any team. Real Madrid maybe, if on form, but I don't think there's anyone close."
Scholes does, however, feel United's Treble-winning side of 1999 would give the current Barca and Bayern teams a good game.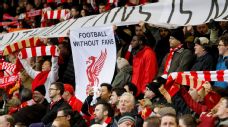 The Red Devils won the Treble of domestic league, domestic cup and Champions League titles a full decade before Barca and Bayern would repeat the feats in Spain and Germany.
"It's hard now to imagine any team living with Bayern Munich and Barcelona with what they're doing," he said. "We [the 1999 side] would be confident we could handle ourselves in that team.
"You talk about their forward lines, we had some unbelievable forwards. Andy Cole, Dwight Yorke, Teddy Sheringham, Ole Gunnar Solskjaer. We had goals everywhere in the team -- Ryan Giggs, David Beckham. We were just probably below that kind of standard but we always felt we could compete with anyone."
The former England international believes Barcelona's front three of Lionel Messi, Neymar and Luis Suarez are the best attacking trio "you're ever going to see," although he still just about prefers the Barca side he came up against coached by Guardiola.
"I don't think they're far off [the current side]," he told ESPN FC. "That was a brilliant team we played against but, you have to say, [now] probably the forward players are better. Probably [Luis] Suarez is ahead of [David] Villa. Suarez looks a bit better than him at the minute, and Neymar as well, [but] they've not got Xavi, have they?
"You couldn't get a kick of the ball [in 2009 or 2011]. Possession was sensational. It's all right if you've got possession but you've got to do something with it, and they had the ability with the forwards. Messi, Iniesta could beat players. Xavi and Iniesta could control the game. We just couldn't get a kick of the ball.
"God, Iniesta, Xavi, just impossible to get the ball off. They were just clever, they know what's around them, awareness. And what Iniesta had that Xavi didn't was a little burst of pace and a little bit of skill, and once he's past you he's gone -- a magician. It's different [at the moment]. I just think the front three are as good as you're ever going to see."
Scholes says United losing to Jose Mourinho's Porto in the Champions League in 2004 was one of his biggest regrets as a player, along with getting eliminated from the competition by Borussia Dortmund in 1997.
United had been leading Porto 2-2 on aggregate on away goals in the last-16 second-leg match in March 2004, only for Scholes himself to then have a goal wrongly disallowed for offside.
The Portuguese side went on to claim a late winner through Costinha, launching both their surge to that season's Champions League trophy and Mourinho's career.
"We beat them," Scholes said. "We beat them at home, the offside goal, we were through. That was the year, I think we would have had a great chance of winning it. I think we would have beaten Monaco in the final. It was a major regret, yeah, along with getting beat by Borussia Dortmund in the semifinal in 1997 because we were by far the better team.
"Yeah, the Porto game. We didn't play great away from home, got an away goal, but we were much the better team at home. Tim Howard made a little bit of a mistake and we had a goal ruled offside that wasn't."
Scholes, however, also credited the discipline that Mourinho instilled in that side.
"That's why he's the manager he is today," he said. "Porto were a very good team, really good players. And he put that together then, created a miracle really, because you can't see how that can happen again."