KNYSNA, South Africa -- A draw, a loss, a tantrum and now chaos for Les Bleus.
France's World Cup team refused to train Sunday in protest of striker Nicolas Anelka's expulsion from the squad, prompted by a profanity-laced tirade against coach Raymond Domenech the day before.
"

Everyone in the whole world is mocking us now. I'm gutted, because we're not playing football any more.

"

-- Franck Ribery
The latest round of turbulence also led to the resignation of France team director Jean-Louis Valentin, who said he was fed up with the team.
"It's a scandal for the French, for the young people here. It's a scandal for the federation and the French team," Valentin said. "They don't want to train. It's unacceptable."
Before getting in a car and driving off, he added: "As for me, it's over. I'm leaving the federation. I'm sickened and disgusted."
Tensions boiled over after the team arrived at training and got off the bus to greet about 200 fans who had gathered there. Domenech, whose tactics and management skills have been questioned, stayed on the bus to talk to France captain Patrice Evra.
Meanwhile, fitness coach Robert Duverne was on the field putting down training cones. After Domenech and Evra got off the bus, Evra and Duverne started to argue. Domenech tried to intervene, but Duverne then stormed off, throwing his accreditation down the field.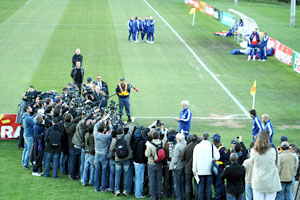 Frank Fife/AFP/Getty ImagesFrance coach Raymond Domenech explained to the media why his team wasn't training on Sunday.
"Everyone in the whole world is mocking us now," winger Franck Ribery said on television hours before training even started. "I'm gutted, because we're not playing football any more."
Afterward, Domenech read a statement he said was written by the players to explain their protest:
"The French Football Federation did not at any time try to protect the group. They took a decision uniquely based on facts reported by the press. As a consequence and to show our opposition to the decision taken by officials of the federation, all the players decided not to take part in today's training session."
Evra and the players, en masse, boarded the team bus and drew the curtains.
French sports minister Roselyne Bachelot said "the indignation of the French is great" and that she had spoken to French President Nicolas Sarkozy about it.
In their first two matches at the World Cup, France drew 0-0 with Uruguay and then lost 2-0 to Mexico. France can still advance to the round of 16 with a win over host South Africa, as long as Uruguay and Mexico don't draw in the other Group A match.
Christian Teinturier, vice president of the federation, was stunned by what happened. He had objected to Domenech remaining as coach after the European Championship two years ago, when France went out at the group stage.
"I confess that I understand nothing," he said. "We're in another world here. French football is in a catastrophic situation."
Domenech said he gave Anelka the chance to apologize for his profanity-laced outburst, and that his refusal to do so justified his expulsion from the French World Cup team.
Anelka was sent home Saturday, hours after revelations of his angry tirade was revealed by sports daily L'Equipe.
Domenech said on the French television show Telefoot on Sunday that "I gave him the chance to come and talk and to say sorry" but that "he didn't want to and that's why I went along" with the French soccer federation's decision to throw Anelka out.
Domenech added it was not "a personal problem between the coach and the player," but "a problem concerning the federation and the image of the French team."
For Swiss coach Ottmar Hitzfeld, France's behavior was bewildering.
"What can I say? If something like this happens, I am going to say bye. This is where our paths part," he said.
Information from The Associated Press was used in this report.