Lots of talk, little results
November 30, 2009
The manager is under fire from the media, the team's best-known player has moved to La Liga's Espanyol without a guarantee of playing time and the long shadow of archrival South Korea's 2002 World Cup semifinal appearance continues to haunt Japan. But it's not all bad news for the Blue Samurai. They were the first team to qualify for the World Cup (South Africa received an automatic spot as host nation) and so have a year's preparation time. That, however, might not be nearly long enough. Manager Takeshi Okada insists, though, that Japan can reach the World Cup Final Four.
The heavily scrutinized and criticized Okada took over the national team under difficult circumstances. On Nov. 16, 2007, hugely popular coach Ivica Osim suffered a severe stroke and didn't regain consciousness for 10 days. The Bosnian-born Osim had led Yugoslavia to a quarterfinal berth at Italia 1990, and was a successful coach in Japan's J-League. He was appointed Japan's coach in the wake of the team's poor showing in Germany in 2006. Despite leading Japan to a disappointing fourth-place finish at the 2007 AFC Asian Cup, Osim remained popular with the fans, media and players. A book of his quirky quotes, "Words of Osim," was a bestseller in Japan. But with Osim unable to continue, Okada stepped in for his second stint at the Japan helm.
In his first go-round, Okada led Japan to the 1998 World Cup, where it went three-and-out. At his first press conference back in December 2007, Okada said Japan could reach the semifinals in South Africa. His statement was widely ridiculed by the Japanese media, and with some justification. If Japan fulfills Okada's lofty goal, it would be one of the biggest surprises in the history of the World Cup. South Africa marks Japan's fourth consecutive appearance in the Cup (and fourth overall), but the Blue Samurai have won only two games at the Big Show, and both of those came as co-hosts in 2002. In addition, Japan finished a less-than-impressive second in its final-round qualifying group (to Australia) in gaining a spot in the tournament.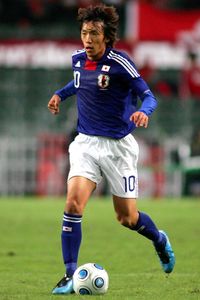 Koji Watanabe/Getty Images Shunsuke Nakamura is deadly on free kicks.
The team's overall qualification record was 8 wins, 2 losses and 4 ties. But despite getting the Blue Samurai through the arduous Asian qualifying campaign, Okada remains a magnet for media criticism in Japan. Several major newspapers have called for him to be fired, claiming that his tactics are naive, that his belief in a so-called Japanese-style passing game doesn't work and that he has done nothing to address obvious deficiencies when playing against bigger, more physical teams.
The Blue Samurai's strength is its midfield. Okada prefers a 4-2-3-1 formation with Yasuhito Endo pulling the strings from his central-midfield position. Endo didn't come off the bench in Germany, but now, as Okada says, the 2008 AFC Champions League MVP is "the heart of the team." And he has a talented cast around him in the middle of the park. Makoto Hasebe of German Bundesliga champions VfL Wolfsburg partners with Endo in central-midfield, three-time J-League All-Star Kengo Nakamura is a technically gifted player with fine passing skills and veteran Shunsuke Nakamura is a vastly experienced inspirational figure who is deadly on free kicks. Shunsuke Nakamura remains something of a talisman for the team. But after a year of assorted injuries that cut into his playing time with Celtic in the SPL and with the national team, he joined Spain's Espanyol for the 2009-10 season. Okada has already told him he must be playing regularly to make the World Cup team; a potentially divisive issue. On the bright side: With a year to develop his game, J-League teenage sensation Naoki Yamada has the potential to be a big contributor.
Despite the presence of 2006 holdover Yuji Nakazawa, and the impressive play of Brazilian-born central defender Tulio, Japan's defense remains vulnerable to pace and power. Yet the team's biggest weakness is its perennial problem: lack of offense. In 14 qualifying games, Japan scored more than one goal in just four games, and against hardly stellar competition. Keiji Tamada will most likely plow a lonely furrow up front, with Yoshito Okubo and youngster Shinji Okazaki pushing him for a starting spot.
Four years ago Japan, much like South Korea, saw Germany as an opportunity to prove it was a serious contender. But the tournament proved a huge disappointment for Japan as it snatched defeat from the jaws of victory in the opening game against Australia and was schooled 4-1 by Brazil in the last game of group play. After failing to dominate in qualifying games against the likes of Qatar, Oman and Bahrain, it would seem unlikely Japan could attain its coach's goal for South Africa.
Mark Young is a World Cup writer and researcher for ESPN.