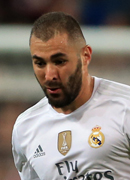 Overview
Karim Benzema is a French international who currently plays striker for La Liga side Real Madrid. Known for his powerful style of play and vast goal-scoring ability, Benzema is considered one of the top young strikers in professional football. He won the Ligue 1 title four times during a stay with Olympique Lyonnais, also becoming the youngest player to be named Top Scorer and winning Ligue 1 Player of the Year in 2008.
Early Years
Karim Benzema was born Dec. 19, 1987, in Lyon, France. As a youth, Benzema began playing with a local Rhone-Alpes club Bron Terraillon. In 1996, he scored two goals for the academy squad against local giants Olympique Lyonnais' youth side. OL's scouts were immediately impressed and signed Benzema to their academy.
Club Career
Karim Benzema is very much a product of Olympique Lyonnais' system, spending the first 13 years of his youth and professional career with the squad. After impressing with the Lyon reserves in 2003-04, Benzema made his top-flight debut for Lyon on Jan. 12, 2005, coming on as a 77th-minute substitute against Metz. He recorded an assist on the second goal of a 2-0 win in that match -- he was only 17.
In his first two professional seasons, Benzema's role was limited on the full team, making only six starts and 13 substitute appearances while still playing for the Lyon U-18s. He did make his first start in April 2005, and his first goal came in a Champions League match against Rosenberg, a 2-1 win. The goal came just days before his 18th birthday. Five days after that match, he signed a five-year contract with Lyon.
In 2006, Benzema broke into the starting XI for the first team, registering 13 starts and scoring five goals. Lyon win the Ligue 1 title for the sixth straight time -- Benzema's third -- though the striker said that campaign was the first in which he felt he'd made an impact. In August 2007, Benzema signed on to Lyon with a two year extension, keeping him at the club through 2012.
Benzema's break-out season truly came in 2007-08. Benzema moved to the traditional No. 10 role and thrived, netting 21 goals with seven assists in 33 league games for Lyon. He also excelled in Europe, scoring four goals in seven games in the Champions League. Lyon added the League Cup to their seventh-straight league title, winning their first-ever double. That season, Benzema also was voted Ligue 1 Player of the Year and was the youngest-ever top scorer in Ligue 1. He also was shortlisted for France Football's Ballon d'Or.
His success continued in 2008-09, finishing with 23 goals and four assists in 40 games for Lyon. Again, five scores came in eight Champions League games. At the end of the season, Lyon extended his contract until 2013 and included a buyout clause that made the then-20-year-old one of the highest paid footballers in France.
Only a few months later, though, Lyon announced Benzema's sale to Real Madrid's galacticos side, with the striker signing for 35 million euros (which included a transfer fee that could reach 41 million euros). Benzema agreed to a six-year contract. He made his debut for Real Madrid on July 20, scoring a goal in the 87th minute after coming on as a half-time substitute in a friendly. His first full goal for Real Madrid came on Sept. 20, but a slower pace than he set in Ligue 1 has many wondering if Benzema's signing will be a disappointment to Madrid.
International/World Cup Experience
Karim Benzema earned his first experience for the French national team with the youth sides, playing on the squads from U-16 to U-21. Benzema and his teammates impressed during the U-17 Euro Championships in 2005, winning the first title for France on their own soil. The next year, Benzema continued with the U-18 squad, scoring 12 goals in his 14 appearances. All in all, the striker made 35 youth international starts, scoring 20 goals.
Benzema received his first full call-up in November 2006, but he had to drop out of the squad due to an injury. So his first start came several months later, on March 28, 2007, when he scored the only goal in a 1-0 win in a friendly against Austria. In the next several months, Benzema played in five Euro Cup qualifiers, starting two of them. He scored two goals in a game against Faroe Islands, when he came on as a halftime substitute.
During Euro 2008, Benzema took over the No. 10 shirt from legend Zinedine Zidane. He started the first group match against Romania, but after struggling in the first half, he was taken off at halftime. He then sat out a 4-1 loss to Netherlands before returning against Italy. With two losses and a draw, France finished at the bottom of their group.
The striker earned several more appearances in 2010 FIFA World Cup qualifiers, playing in eight matches -- starting three. Benzema sat out four other matches, including both of the playoff games against Ireland. He recorded two goals in the qualifying campaign. Benzema earned his 25th cap in a match against Romania on Sept. 5, 2009.
Personal
Karim Benzema, though born in Lyon, was eligible to play for the Algerian national team, due to both his parents' northern Algerian backgrounds. In 2006, Benzema was asked to play by Algeria, but he turned them down to pursue a career with the French squad.
As per Olympique Lyonnais tradition, Benzema was asked to make a speech in the locker room after his signing. In response to jokes by several of the veterans of his youth, Benzema responded with, "Don't laugh -- I am going to steal your spots." By the end of two months, Benzema had moved from the fifth-favored striker to the first.
Though Benzema often draws comparisons to the legendary Zidane -- because of his French-Algerian heritage, his kit number and his powerful style of play -- Benzema said he credits the play of the Brazilian Ronaldo, Zidane's Real Madrid teammate, as his inspiration.
Benzema has eight brothers and sisters.
République française
| | |
| --- | --- |
| Official Language | French |
| Population | 65,073,482 (2009 estimate) |
| Capital | Paris |
| Largest City | Paris (2,203,817) |
| Administrative Divisions | 26 regions |
| Government | Unitary semi-presidential republic |
| Head of Government | President Nicolas Sarkozy |
| Literacy Rate | 99 percent |
| GDP Rank | 8th |
| Most Popular Sport | Soccer |
| Most Popular Religion | Christian (est. 55 percent) |
| TLD | .fr |
| Country Code | +33 |
| Random Fact | France is the most popular country in the world with tourists. |