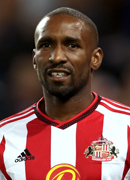 Overview
Jermain Colin Defoe is an English international striker who currently plays in the English Premier League for Tottenham Hotspur. Defoe was one of the most productive strikers in England's 2010 FIFA World Cup qualifiers and has impressed with several quality performances in clubs in the Premier League. He became only the third player ever to score five goals in a Premier League game with Tottenham in November 2009.
Early Years
Jermain Defoe was born Oct. 7, 1982, in Beckton, London. He grew up on a council estate, raised by his mother, until he was 14. While playing in a famous London-based Sunday League squad, Defoe was spotted by Charlton Athletic. Charlton enrolled him in the national academy of the FA, the National School of Excellence, in 1997. Defoe graduated from the school's final class, in 1999.
Club Career
Jermain Defoe created a stir almost as soon as he graduated from the National School at 16, signing a professional contract with East London-based club West Ham United. Charlton eventually accused West Ham of poaching the young player, eventually winning 1.65 million pounds in compensation.
Playing with the U-19 squad in 1999-2000, Defoe proved his worth almost immediately, helping the side to the Premier League play-off final and scoring twice to take the title. His first-team debut came early in the next season, when he scored the only goal in a 1-0 League Cup win against Division Two side Walsall.
Shortly after, Defoe was loaned to Bournemouth in the Football League Second Division, then the second-highest level of professional football in England. In his first 10 games, Defoe scored 10 goals, matching a post-war record for goals in consecutive games. He ended the season with nine goals in 31 appearances.
Defoe returned to West Ham following his loan spell and continued his impressive output, registering 14 goals in all competitions. In his next season as a Gunner, Defoe bettered it again, playing in every league game and scoring 11 goals with eight assists in the process. It wasn't enough to keep West Ham in the Premier League, though, and the squad was relegated to the Championship at the end of the season. Defoe put in his transfer request less than 24 hours after the final game, seeking a return to top flight football, but remained with West Ham for the next half-season.
While playing in 19 games and scoring 11 goals, Defoe repeatedly turned down offers from West Ham to sign a new contract and began having disciplinary troubles, sitting out 12 games for suspensions, and finally was sold to Tottenham during the January transfer window in 2004. Defoe signed for 7 million pounds, and West Ham also received striker Bobby Zamora in the trade. Defoe started 14 games for Tottenham in his first half-season, finding net seven times.
The 2004-05 season proved Defoe's best yet, with the striker netting 22 goals in 28 Premier League starts. Both his starts and goals dropped in 2005-06, with the striker recording only nine scores in the league while rotating the striker position with Robbie Kean and Mido. In the next season, Defoe played more regularly and put together 18 goals, 10 of them in the league.
At the start of the 2007-08 season, Defoe's role as top striker had been taken over by Darren Bent, and Defoe started only three games for Spurs. In January 2008, he was sold to Portsmouth for 7.5 million pounds, looking for more regular first-team play. He started 12 games, scoring eight goals, in the final half of his first season at Portsmouth.
After another half-season, starting the 2008-09 season at Pompey and scoring nine goals in all competitions, Defoe was again on the move, this time sold back to Tottenham for about 15 million pounds. He scored three goals in his first five games back but then suffered a foot injury that saw him miss most of the season's remainder.
The 2009-10 season has shown promise to be Defoe's best yet, though. With 12 goals in his first 13 games, Defoe's finest moment came near the end of the first third of the season. A five-goal frenzy -- including a hat-trick in only seven minutes -- in a 9-1 win against Wigan made Defoe only the third player in Premier League history to score five goals in a game. Defoe's came all in the second half of the Nov. 22 match.
International/WorldCupExperience
Jermain Defoe began his England career on the youth squads, as an international on the U-16 side and then making 23 apperances as a U-21 player. His full-side debut came on March 31, 2004, when he came on as a substitute against Sweden in a friendly.
Defoe then became a regular on the squad, being called up for most of England's qualifiers for the 2006 World Cup and playing in eight games. In the first of his three starts, Defoe scored his first England goal, in a 2-1 win against Poland on Sept. 8, 2004.
But even after featuring in qualifiers, Defoe was then left out of Sven-Goran Eriksson's squad for the World Cup in Germany. Named to the five-man standby list, Defoe was the only standby to travel with the squad to train in Germany. He flew home to England before the finals began after fellow striker Wayne Rooney was cleared to play, having recovered from a foot injury.
After new manager Fabiio Capello was impressed by Defoe's play for Portsmouth in 2008, he called the striker to the team for several friendlies that summer. His first Capello call-up came in May, and shortly after he scored a brace against Trinidad & Tobago in June.
Defoe then played a part in five of England's qualifiers for the 2010 FIFA World Cup, starting a game against Andorra in September 2008 before scoring his first goal in the campaign after coming off the bench in 85th minute against Kazakhstan in October.
After scoring twice in the second half in a 6-0 win against Andorra in June 2009, Defoe recorded another brace in his next game for England, again coming on at halftime and salvaging a 2-2 draw for the Lions in a friendly against the Netherlands. A goal in his next match against Slovenia in September carried Defoe's streak to three appearances with a goal.
Personal
Jermain Defoe has played for Premier League manager Harry Redknapp on three different teams: West Ham from 2001-04, Portsmouth from 2008-09 and Tottenham from 2009 on.
On April 24, 2009, Defoe's half-brother, Jade Defoe, died as a result of head injuries suffered during an assault in London four days earlier. Jade, 26, was a DJ. He and Defoe shared a father. Defoe missed Tottenham's away game at Manchester United following Jade's death.
Defoe's long list of conquests includes, among several British actresses and model, David Beckham's younger sister, Joanne.
Defoe has said in interviews that the reason he shaved his head is because he believes he only gets injured when he has longer hair.