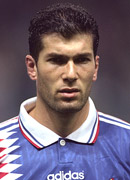 Overview
Zinedine Yazid Zidane is a former French footballer considered by many to be the greatest European player in the game's history. Zidane enjoyed a career of 12 years with the French national team that saw highs -- a 1998 World Cup win and victory two years later in the 2000 European Championships -- and lows -- when he was sent off in the 2006 World Cup final for headbutting an Italian player. Despite that and other transgressions worth noting throughout his career, Zidane's is known for much more than just that.
A three-time Ballon d'Or winner, Zidane won every major trophy in the Italian and Spanish leagues during his club career, as well as many top European honors, including the Champions League -- in which he scored several goals still considered some of the most impressive ever scored in the competition.
Early Years
Zinedine Zidane was born on June 23, 1972, in Marseille, France. Known then as a tough town, Marseille was home to much of France's immigrant population, and Zidane's family was no different. Both of his parents had immigrated from Algeria.
Zidane grew up playing soccer in the local square with his brothers and the rest of the neighborhood children, and it was a deep-seeded passion from the start. A 12-year-old Zidane even served as a ball boy when the Stade Velodrome hosted a Euro 1984 finals match.
It was only two years later when he was spotted on the streets by a scout at the AC Cannes academy and offered a week-long trial at the club. Zidane went to Cannes for seven days, and he remained for the next six years.
Playing Career
Club Career
Zinedine Zidane made his professional debut for Cannes in 1988, one month before his 17th birthday. Zidane made his first senior appearance on May 20, 1988, against FC Nantes, in what would prove one of the most successful club careers in history. He played only one other game that season, and remained entirely with the reserve squad throughout the next season, but by 1990 Zidane was an established member of Cannes' starting XI.
He scored his first goal for Cannes on Feb. 8, 1991, against the same time against which he debuted: FC Nantes. It was his only goal, but he did make a total of 28 appearances in Cannes' league season. In the following year, Zidane was able to up his goal tally to five, but his scores weren't enough to save Cannes from relegation. With Cannes falling to Ligue 2, Zidane went on the move seeking first-class football.
He found it at Bordeaux, where he moved for 3 million francs in June 1992. In his first season for les Girondins, Zidane scored 10 goals in 35 games, placing himself in the forefront of French football for good. He scored six goals in 1993-94, and another six in 1994-95.
Zidane and Bordeaux erupted onto the world stage in the following season. Another six goals in the league did nothing to tell Zidane's impact for the squad on the European stage. The club won the Intercontinental Cup and the UEFA Super Cup for the first time. They also reached the finals of the UEFA Cup, a huge coup for the team that had started in the Intertoto Cup, before losing to Bayern Munich. Zidane paved the way for the club with several remarkable goals, notably scores against Sevilla and a brace against AC Milan.
The French midfielder was on the move again in June 1996, with the destination a club he considered to be the best in the world: Serie A's Juventus. In a move worth 35 million francs -- more than 10 times what Bordeaux paid for him -- Zidane joined the Italian league. In his first season, he scored five goals in the league and reached another European cup finals, this time the Champions League. Again Zidane and his teammates lost in the finals, but they did rack up wins in the Italian Super Cup and Serie A, Zidane's first regular season championship. He was named Serie A's Foreign Footballer of the Year.
The trophies continued to pour in during the 1997-98 season, when Juventus took home another Serie A title, thanks in part to Zidane's seven goals. But once again the midfielder was denied in the Champions League final, losing his third straight European finals. Despite a relatively slow season in 1998-99, scoring only two goals, Zidane ended the season with his first Ballon d'Or trophy, thanks in large part to his exploits in the 1998 World Cup finals. He also was voted French Footballer of the Year and FIFA World Player of the Year, completing the trinity for a French player.
Zidane scored only three goals in 1999-2000, but on the back of another international win at the 2000 Euro finals, Zidane won another FIFA World Player of the Year award in December. In that 2000-01 season, Zidane scored six goals in 33 games, extending his contract with Juventus through 2005.
Despite the renewed allegiances, that year would prove his final at the Serie A club, a move to Real Madrid's first "galacticos" squad finalized in June 2001. The deal was started at a gala in Monaco, when Real president Florentino Perez passed him a napkin that said, "Would you like to play for Real Madrid?" Zidane did, and Perez made the French midfielder the world's most expensive player with a 73 million euro deal from Juventus.
In his first season, Zidane scored seven goals in 31 league games and, more importantly, finally won the trophy that had so long eluded him. Real Madrid won the Champions League finals with a goal from Zidane himself, cementing a 2-1 final win against Bayer Leverkusen. Real Mardid also won the Intercontinental Cup and the UEFA Super Cup, and Zidane was named French Footballer of the Year as well as UEFA Club Footballer of the Year.
In 2002-03, Zidane scored nine goals in 33 games as Real won La Liga and also took home the Spanish Super Cup. Zidane, too, took home his third FIFA World Player of the Year award in 2003. With another six scores in 2003-04, Zidane renewed his contract with Real through 2007.
After a disappointing six-goal season in 2004-05, a year even he admitted was far from his best, and a nine-goal tally in 2005-06, Zidane announced that he would retire after the World Cup finals. After a strong World Cup finals and a successful final year at Real Madrid, a 34-year-old Zidane finished in fifth in the Ballon d'Or voting.
International/World Cup Experience
Zinedine Zidane made his French national team debut in August 1994, when he came on as a second-half substitute in a match Les Bleus were losing 2-0 to Czech Republic. Two goals in 17 minutes from Zidane completely changed the course of the match -- and announced his arrival on the national team. Only a few months later, Zidane was named French Young Footballer of the Year and was a regular in Les Bleus' attacking midfield.
But it was after the 1998 World Cup finals that Zidane truly became a national hero. France won the tournament as hosts, defeating three-times champions Brazil in the finals. Zidane's tournament had begun without fanfare -- two yellow cards in a group stage match against Saudi Arabia saw him miss the final group stage match and the Round of 16 knockout round, but he returned in style. It was Zidane who scored two goals in the first half of the final against Brazil -- both on impressive looping headers -- as France went on to win 3-0.
France proved its superiority again in 2000 when they won their second straight international title, running through the European Championships finals and taking home the title -- the first team to hold both the World Cup and European titles since 1974. Zidane scored twice in the tournament and was again considered one of the key leaders for the team.
The 2002 World Cup finals were not so kind to Zidane. Having suffered a thigh injury in one of Les Bleus' warm-up matches, Zidane missed the first two group games, and France was struggling. Without a win heading into the final first-round match, Zidane was rushed back prematurely, but even he couldn't help France from crashing out of the tournament -- without ever having scored a goal in the finals.
The squad was able to turn around its fortunes before the 2004 European Championships, winning eight of eight matches in qualifying (Zidane scored in three of them). France's opener seemed to set the tone early: Down 1-0 in extra-time against England, France seemed done for until Zidane scored two injury time goals and brought home a 2-1 win for Les Bleus. France played well, but were beaten in a shock upset by Greece in the quarterfinals (Greece went on to win the tournament). For the first time, Zidane captained France in place of the injured Marcel Desailly.
Zidane retired from the French national team following the end of the World Cup, along with many of the squad's other established stars. Amid constant coaxing from his teammates and coach Raymond Domenech, though, Zidane agreed to return to the team to help them qualify for and compete in the 2006 finals. He did insist, though, that the 2006 finals would be his final event in any first-class football. His 100th cap for the French national team came in May 2006, in a pre-finals friendly against Mexico.
Throughout the finals, Zidane was a force for Les Bleus. He captained the squad throughout the campaign, but his play in the first round disappointed. France struggled early on, and Zidane missed the final group stage match -- a must-win against Togo -- on a yellow card suspension. But when he returned for the knockout rounds, Zidane made up for his absence and then some.
First he had a goal and an assist in the Round of 16 match against Spain, cementing a 3-1 win with his late score. In the quarterfinals, he almost single-handedly inspired the team to a 1-0 win against rivals Brazil, their 1998 co-finalists. He scored the only goal -- off a penalty -- in the 1-0 semifinal against Portugal, and it was Zidane who coolly netted from the spot in the seventh minute of the final against Italy, becoming only the fourth player in history to score in two different finals.
But Zidane's final wouldn't be remembered for that penalty. With the match tied 1-1 and playing extra time, Zidane reacted to a jab from Italian Marco Materazzi by headbutting him in the chest. He was shown a straight red card and, as he marched off the field and into the locker room, walked straight past the Jules Rimet trophy on his right, a scene that has become iconic in World Cup history. France lost in the ensuing penalty kick shootout, 5-3.
Neither Zidane nor Materazzi has ever admitted what the Italian player said to Zidane to incite him, but Zidane has since said the comment was about his mother and sister. Materazzi and Zidane had been on each other throughout the entire game, so Zidane said the comment was the last straw in a long battle. In 2010, Zidane said that he would "rather die" than apologize to Materazzi.
Post-Playing Career
Zinedine Zidane was courted by several clubs following his retirement after the 2006 World Cup finals, including most every squad in the MLS, optimistic Zidane would be encouraged by David Beckham's joining the league that same year. The Chicago Fire were most open about their advances, but Zidane repeatedly refused any offers to return to the playing field.
In 2009, Zidane announced that he would be interested in joining Real Madrid in an advisory role if he were asked. Upon Florentino Perez' reelection that June, Zidane joined the team, as Perez' Advisor to the President. His name has been linked with various club managerial positions in England, Spain and France since his retirement, but he has never pursued any yet.
Zidane has spent much of his time helping with several charities and organizing or playing in charity matches around the world. Since 1999, Zidane has worked with the United Nations Development Programme, becoming an official ambassador in 2001. Much of his work for that organization is based in Africa, particularly Angola and his parents' native Algeria.
He also plays often for the Real Madrid Veterans' team. He also has organized or played in several charity matches around the world, including the Match for Poverty, children's AIDS charities and a fundraiser following the 2010 Haiti earthquake.
Personal
Zinedine Zidane has been nicknamed "Zizou" since his time at AC Cannes.
Zidane is married to Veronique, a French-Spanish former dancer. The couple married on May 28, 1994. They had their first son a year later. They now have four sons, all with Italian names. They all play football -- two for the Real Madrid youth teams.
Zidane grew up very close to his brothers. One, Farid, still coaches the local Marseille team, Nouvelle Vague. Zidane is its life-president. He has always been famously protective of his family -- his manager at Cannes said the young player spent most of his first week on cleaning duty as punishment for punching a teammate who mocked his family.
And that was not the only infraction in his career -- Zidane was known for his short temper and ferocious play. He was suspended from Champions League play on at least three separate occasions, including a five-match ban in October 2000 for headbutting another player. For many, his outburst against Marco Materazzi -- especially after it came out that Materazzi's comments were an attack on Zidane's family -- was of little surprise.
In 1999, Zidane published a book, "Mes copains d'abord," or Friends First, with Cristophe Dugarry, a teammate at Bordeaux and the French World Cup winning squad. In 2007, a number of filmmakers collaborated to create 'Zidane: A 20th Century Portrait." The documentary film follows Zidane (and only Zidane) throughout a 90-minute football match. It received an overwhelmingly positive reviews.
In 2004 Zidane finished first in a poll of the most popular Frenchman of all time. He was also named the best European Player of the past 50 years in UEFA's Jubilee celebrations in 2004, as well as the best European player in history by the BBC.
Zidane considers himself a "non-practicing Muslim." His parents, both from Algeria, both are Muslim.