Bhutan hoping to parlay World Cup qualifying success into lasting stability
Bhutan may be officially the worst team in the world, according to FIFA rankings, but after the defeat of Sri Lanka in the first round of qualification for the 2018 World Cup, it is not a title that will be held for much longer. Suddenly, after making history, the future is looking a lot brighter for the mountainous South Asian kingdom.
A first leg 1-0 win on March 12, a first ever victory in qualification (and only the fourth win in the country's history) for the biggest sporting tournament on the planet, in the Sri Lankan capital of Colombo was followed up by a 2-1 victory in front of a ecstatic sellout crowd of 25,000 in Thimphu on Tuesday.
Chencho Gyeltshen scored after just five minutes, and the celebrations began. Matters took a turn for the worse 10 minutes before the break when Zohar Mohamed Zarwan pulled one back for the islanders. Another goal for Sri Lanka would have been enough but in the final minute, the 19-year-old Gyeltshen struck again and Changlimithang Stadium erupted.
"It was very exciting," Ugyen Tsechup Dorji, the president of the Bhutan Football Federation (BFF) told ESPN FC. "First of all, the number of people that turned up for the match was amazing. We had to disappoint a lot of fans and turn them away. Inside the stadium the mood was very tense when we were under a lot of pressure from Sri Lanka but despite all that, there was a funfair atmosphere at the same time. I am very proud that there wasn't any negative feeling or booing against Sri Lanka. It was a good crowd in all senses and a great night."
Bhutan's place at the foot of FIFA's rankings is well documented but local authorities never saw the team, made up of semi-professional players, as the worst in the world.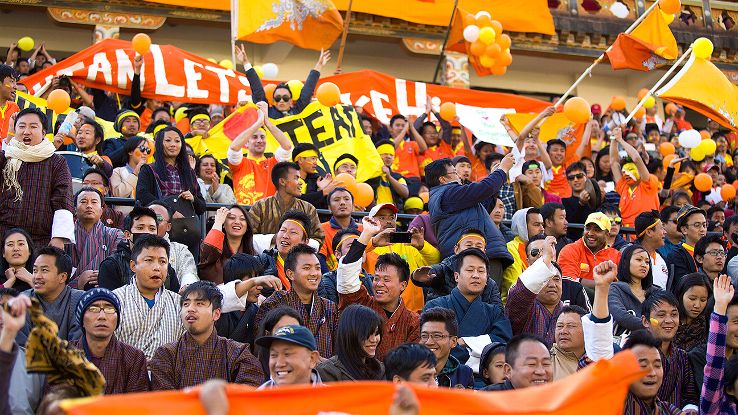 "I always maintained that Bhutan had talent," said Dorji. "If you look at how many official tournaments that allow us to get points to increase our FIFA rankings, we just haven't played any matches to move up any places. The BFF always maintained that with our limited resources, we needed to focus on building for the long term and not just reaching out to win a match or two and spending all the money we have."
Finances have often been an issue for the tiny country with a population of around 750,000. The president talked of the pressures of investing what little there was in the right places, where it could have maximum effect in the long term. In that context, there seemed little point in worrying about FIFA rankings of the national team.
"Initially at the Bhutan Football Federation, we always thought that winning competitions was not so important," said Dorji. "We didn't want to waste much time and effort on the national team. For us to play games in tournaments outside the country was expensive and we are not a rich federation."
Bhutan may still not yet be rich but after the Sri Lanka win, those worries will reduce. "Public sentiment towards the national team and football has really increased," said Dorji. "I have already received a number of calls from people in the private sector and they are saying that they are happy to get involved in and support the national team. Corporate support is encouraging for us."
The really big deal is that Bhutan now progress to the second round of qualification due to kick off in June. This group stage means eight games against much bigger and better teams than Sri Lanka, and it could involve a clash with a true continental powerhouse. That will not only be useful from a financial point of view but give the Himalayan Kingdom a first opportunity to play a sustained number of competitive games against strong opposition.
"The fans in Bhutan are realistic and are aware that we have only crossed the first hurdle but this gives us a great opportunity to play Asian superpowers in the next round," Dorji said. "We will approach those games in a positive frame of mind but we know that it would be a miracle if Bhutan can win."
Chokey Nima is the man who delivered the first miracle but the coach will not be in charge for the next round. His appointment, explains Dorji, was strictly interim.
"We have been getting support from Japan, Thailand and Kuwait and without all this, we couldn't have training programs. This game was done with a Bhutanese coach, a temporary choice after the last Japanese coach resigned. A new coach from Japan will come and take over the national team for the next qualifiers."
As exciting as it undoubtedly is to still be in the running for the 2018 World Cup when four other teams have already fallen by the wayside, Dorji is looking past the short term.
"We want to use our resources in a good way to build a strong foundation. Football is not just about international matches but giving youth in rural and urban areas something to do. If we have a strong youth development system and invest in grassroots then we can maintain quality for years to come. We don't want a good team for a year or two and find that when the old lot stop playing and the new lot come in, then the quality gets worse.
"It is great though," continued Dorji. "The country is excited and we can already see that the academy players, both male and female, are inspired. The win has caused a catalytic effect, which, if we can carry it on, could translate into momentum going forward and that could have a great meaning for Bhutan football in the future."
Asian expert John Duerden is the author of Lions and Tigers: Story of Football in Singapore and Malaysia.Twitter: @JohnnyDuerden.