Loew makes case for Germany defence
Germany coach Joachim Loew remained upbeat about his team's defensive abilities despite them having to come from two goals down to win a 5-3 thriller in Sweden.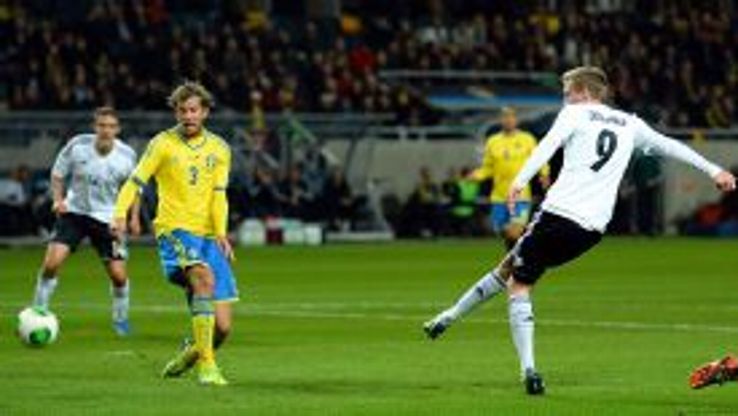 Germany finished top of their group with nine wins and one draw in ten games. They scored a record 36 goals through the campaign, while seven of the ten they conceded came in the two games against Sweden, with the teams having played out a 4-4 draw in the reverse fixture in Berlin a year ago.
"We are aware that we should not make those mistakes in defence," Loew said after the match in Stockholm. "But it doesn't always work out. Two attacking moves led to us being behind, but other than that we had a lot of possession. During the second half we were more dangerous in front of the goal."
Lowe also hinted at signing a new deal with the national side in the next couple of days, saying: "Nothing stands in the way of a new contract, I think.&quot.
Germany captain Philipp Lahm also claimed that there is nothing to worry about as he looked ahead to the training camp before the 2014 World Cup.
"It's just about striking up a better understanding at the back," Lahm said. "We all come from different clubs with different ways of playing, but we know that we will get a month before the World Cup to get it right, so we've got that time."
His Bayern Munich teammate Bastian Schweinsteiger also rests his hopes on the preparation before the World Cup.
"I am convinced it will be difficult to score against us at the World Cup," he said. Schweinsteiger added: "In terms of points, qualifying has been great -- [but] 5-3 is not a good result. I would have preferred a 2-0."
Andre Schuerrle, who was named man of the match after scoring a hat trick, said: "The three goals conceded are pretty annoying. But you were also able to see how much power we've got going forward. It was a deserved win for us."
With a smile, Schurrle added: "That's first time I've scored three goals. I might give the ball to my mum."
The two recent Germany-Sweden games have gone down into history books, but left many irritated with Germany's defensive issues.
Broadsheet Sueddeutsche saw a "reflection of Berlin" and criticised the lack of understanding between defenders Jerome Boateng and Mats Hummels. The paper also pointed out that "the holding midfielders did not feel competent in preventing dangerous passes" and Die Welt warned that "with a defence like this it will get really difficult in Brazil".
Berliner Zeitung used the headline "Panic in the final third" as it complained about the lack of harmony in defence, with two passes between the Germany centre-backs leading to the opening goals of the night.
Frankfurter Allgemeine Zeitung turned the spotlight on Chelsea winger Schuerrle, who scored third, fourth and fifth goals and opened the play for Mario Goetze's equalizer with a superb back-heel move at the halfway line. "Gaps at the back, Schuerrle up front," FAZ headlined its coverage. "Eight goals once again and a redeeming end to an evening that began in a mess," it said about Schuerrle's show, which earned him a "Schuerrle, the Sweden scarer" headline in tabloid Bild.
In spite of the concerns, Loew ultimately maintained Die Nationalmannschaft's unbeaten record in World Cup qualifiers on foreign soil. Indeed, they have only lost two of 84 World Cup qualification matches in their history -- a 1-0 defeat at home to Portugal in 1985, and the legendary 5-1 humiliation against England in 2001.