Western Sydney Wanderers shouldn't lose points for fans' flares - Santalab
Western Sydney veteran Brendon Santalab says it would be unfair and ridiculous if the A-League leaders had competition points deducted for the misbehaviour of some fans who "don't really love the club."
The Wanderers have until 5pm Wednesday to explain why they shouldn't be punished after some among their supporters let off flares and detonators during Saturday night's 1-1 draw with Melbourne Victory at Etihad Stadium.
The flashpoint halted play as smoke cleared from the ground.
Asked if the possible stripping of points was fair, Santalab said: "Definitely not. We give 100 percent week in, week out, so to punish the players would be ridiculous in my mind.
"It's more disappointing in the fact that the FFA are looking to take points off us.
"We don't like it when the game is brought into disrepute and we hope that this situation is dealt with as soon as possible and that the players aren't punished for something that is totally out of our control."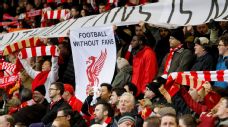 However the newly re-signed striker conceded the governing body needed to act on the law-breakers stopping the game for acts he said disrupted the playing group.
"It's unacceptable. As we've seen in Melbourne, the game was stopped because of the interruption from the smoke," Santalab said. "It's not something that we need in our game.
"It's definitely a disruption.
"People who really love this football club wouldn't do something like this. So for people to continue in the way they are, I feel as though they don't really love this football club and we have to question why they come into this stadium."
Teammate Dario Vidosic said he's seen worse in his time in overseas football but maintained safety was paramount.
"It's maybe a culture that's instilled in Europe but something that's not allowed here. We have to follow the rules regardless," he said.
With the Wanderers on top of the ladder but equal on points with Brisbane, the 33-year-old Santalab said the loss of points would be a massive setback in their push for the premiers' plate.
"To lose three would be a huge setback for us. We would have to try and put that behind us as players, mentally, and keep grinding away and try and overcome the three-point loss," he said.
Santalab said being injury-free had helped him to a rich vein of form where he has scored three goals off the bench in as many weeks -- leading to a two-year extension with the club which was confirmed on Wednesday.
"My body's in good condition. Whenever you're in good shape physically, mentally, you put yourself in a situation to perform well and that seems to be the situation at the moment," he said.
"I'm absolutely delighted. It's great reward for the last three and a half years at the Wanderers."
The Wanderers take on lowly Wellington at home on Sunday.