Valencia coach Gary Neville gets support of former president Salvo
Former Valencia president Amadeo Salvo says Gary Neville has had to endure a tough start as manager and backed owner Peter Lim to return the club to former glories.
Salvo was Los Che president from 2013 to 2015, playing a key role in bringing in Lim, before leaving last summer along with sporting director Francisco Rufete and assistant Roberto Ayala.
That left first-team coach Nuno Espirito Santo as the only senior figure at the club with experience of top level football, and the Portuguese was then sacked in December and replaced by former Manchester United defender and England assistant coach Neville.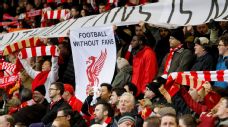 Neville has grown increasingly unpopular with fans and pundits having not won any of his nine La Liga games in charge, and with the team having been hammered 7-0 in last week's Copa del Rey semifinal first leg at Barcelona.
Although recently the club have brought back Jesus Garcia Pitarch as sporting director, Salvo told a news conference that Neville had initially gone into a tough situation with no support structure around him.
"[Hiring Neville] is a decision Mr Lim has made," Salvo said. "For us this [club] is the whole world. For Mr Lim it is different. I understand that and maybe I will support Gary Neville.
"At Valencia whatever you do is a mistake. Neville has just arrived at the top level. But when he arrived there was no structure. His brother Phil is there, and [Miguel Angel] Angulo, who had come up from the youth team. People who had not been in the elite.
"Imagine if Rufete or Ayala had been there, or Garcia Pitarch... they would have advised and guided him. Neville arrived and there was almost nothing here. If anyone else had arrived it would have been the same."
Salvo said those in charge now were aware they have made errors.
"When things are going like this it is because mistakes have been made," he said. "And they know that. They are convinced that they must improve. The structure is now professional again.
"We are unhappy as results are not good. But they know and they will improve. There is a new sporting director. We will give a vote of confidence. They deserve that. Neville is part of the team, and we must all be united.
"He [Lim] has injected €100 million in new capital. If a person is wavering they would not have done that. This is a long term project, and he will fulfill it. He is a man of his word.
"Lim is not a problem, he is the solution for the club. He is a good maximum shareholder -- he has the right to make mistakes, one thousand and one times. It is difficult for us who have been here our whole lives."