Gary Neville determined to fight on as Valencia coach despite pressure
Valencia coach Gary Neville says he still has faith he can turn things around at the club, and also plans to rest players for Wednesday's Copa del Rey return against Barcelona, to focus on getting a much-needed win on Saturday evening at home to Espanyol.
Neville has not won any of his first nine La Liga games in charge at Valencia, and their Copa progress shuddered to halt with a 7-0 humiliation in last week's semifinal first leg at the Camp Nou.
The former Manchester United defender was involved in tense exchanges with local reporters after Sunday's 1-0 reverse at Real Betis, and speculation in the local media has sporting director Jesus Garcia Pitarch sounding out experienced possible short-term replacements including former Real Madrid and Tottenham coach Juande Ramos or ex-Athletic Bilbao and Sevilla boss Joaquin Caparros.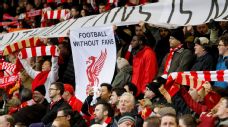 Neville again faced the press on Tuesday morning, and from the start said he would not be responding to any questions regarding his future.
"This is my 13th press conference in two months," he said. "I have dedicated many words to the same things, the fans do not want more words, you probably neither. I am even tired of listening to myself. I have faith in myself, and the players, and the only thing to turn this around is to win games. I know you want to ask me about my job, my future, but I just want to focus on football, on tomorrow's game."
Neville again said that the performance against Barca last week had been "unacceptable," while promising a "positive mentality" for the second leg, even though he would rotate his squad given the 7-0 scoreline.
"Last week was unacceptable, I take responsibility for that," he said. "Tomorrow we must have a positive mentality, we must put in a huge effort, and play, and battle. Saturday's game against Espanyol is fundamental. That must be taken into account when picking the team. I must prioritise Saturday's game. [18-year-old midfielder Fran] Villalba will have an opportunity tomorrow, with two other youngsters."
Asked for details of any conversations with club owner Peter Lim since the weekend, Neville said there was good communication with those above him at the club, but he would keep their conversations private.
"I understand your question, but I cannot share any conversations with anyone from the club -- sporting director, owner, president," he said. "They are private. No coach would share them, it would not be fair. But I speak a lot with them, obviously."
Los Che fans were hurting at the moment, Neville admitted, but he said he and his team were focused on turning the situation around.
"They have been here a long time before Gary Neville, and will be here a long time after," he said. "Valencia is a way of life for them. They have the club in their hearts. Results are testing at the moment, that creates difficult moments. But we are really motivated to turn this around, starting with a performance tomorrow, and a win on Saturday."
Neville said confidence was low around the team, but he said he himself remained sure that the team's performances would soon get the results they deserved.
"I am not even considering relegation," he said. "I am sure we will turn results around, and start to win football matches. We will start taking our chances very soon. Sometimes football is very cruel. Sometimes you do not deserve anything, and get a draw. But in our last three games we deserved to win. I know that if we keep going like this, things will turn around. When this changes for us, we will get our confidence back."