Gary Neville safe at Valencia due to relationship with Lim - David Albelda
Ex-Valencia midfielder David Albelda says Gary Neville has not improved the team at all, but his position as coach is safe due to a close relationship with club owner Peter Lim.
Former Manchester United defender Neville has not won any of his first eight La Liga games in charge of the Mestalla outfit, although he has guided the team into the Copa del Rey semifinals, with their first leg against Barcelona taking place on Wednesday.
Speaking to Catalunya Radio ahead of that game, Valencia legend Albelda said that despite the club's poor run of results there was no danger of Lim making another managerial change. Neville previously knew Lim due to their shared association with English non-league side Salford City.
"The feeling is that Neville has arrived, has not changed the system or the players, and the results are worse," Albelda said. "He feels strong, because Valencia is owned by a gentleman from Singapore who has put him in.
"Neville does not see Valencia's run of results as important, [even though] I have read that it is the club's worst [ever]. I don't believe Neville's job is in danger. I believe he is safe and relaxed, as he said after the [1-0 loss] against Sporting [Gijon]."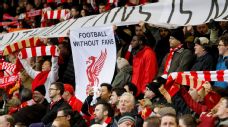 Albelda played in a 2007-08 Valencia side that also endured a difficult La Liga season, but managed to beat Barcelona in the semifinals on the way to winning the Copa del Rey with Ronald Koeman as coach.
A repeat of that feat is possible, but will be difficult for the current team to achieve, the former Spain international said.
"It would be a big surprise if Valencia go through, although among the fans there is some optimism," he said. "You cannot play against Barca thinking you have no chance at all. Valencia must have one of their great nights.
"The 2008 semifinal is remembered here, but we know that Barca can kill the tie with the crazy individual quality they have."
Neville's current deal at Valencia runs only until the end of the season, and Albelda said he would be in favour of a return for former coach Rafa Benitez, who was recently pushed out at Real Madrid, but won two La Liga titles and the UEFA Cup during his spell at Mestalla over a decade ago.
"If [Madrid] want a coach who is less good tactically, then they should have chosen someone else," he said. "At Valencia we would sign up for having Benitez."