United States 'frustrated' by Jermaine Jones suspension - Klinsmann
CARSON, Calif. - U.S. coach Jurgen Klinsmann said that the six-game suspension hanging over veteran midfielder Jermaine Jones for an incident in a Major League Soccer playoff game last October is "frustrating" for the national team.
In handing down its punishment in December, the domestic league determined that the physical contact Jones made with referee Mark Geiger in the New England Revolution's match with D.C. United amounted to assault, which carries an automatic six-match ban.

United States
Canada
Game Details
However, Jones can't begin serving his suspension until he signs with a team. The 34-year-old is currently out of contract. Jones said late last month that the ban is preventing him from inking a deal with interested clubs in Germany, which would have to observe the ban.
With contract negotiations with MLS at an impasse -- Jones called the last offer he received from New England Revolution, where he spent part of 2014 and all of last season, a "joke" -- he's in a tricky spot.
His suspension would include international games once it kicks in. If he remains a free agent, he won't be match fit for the national team's two important March World Cup qualifiers against Guatemala.
"It's a very frustrating situation for us with the national team, that six-game suspension," Klinsmann said on Friday following the Americans' 1-0 friendly win here against Canada. "It hurts tremendously not having him with us in Guatemala because of that decision from the league to give him six games for what he did."
The German-born Jones, a career central midfielder who spent the first 15 years of his career in Europe and starred for the U.S. at the 2014 World Cup in Brazil, played as a defender for the U.S. versus Canada.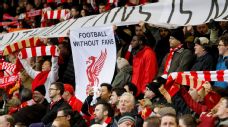 Klinsmann has used the veteran on the back line before, but said it was a matter of filling a need this time around.
With veteran U.S. defenders Brad Evans and Michael Orozco released to their clubs earlier in the week, the U.S.-- which stocked half of its roster with inexperienced youngsters during its month-long winter training camp -- was short of veteran center backs.
"He helped us out," Klinsmann said of Jones. "He was best to play that role and we are very, very appreciative about that.
"Obviously his favorite position is the midfield, and that's where he's locked in with us," Klinsmann added. "Now, we all hope obviously that his own personal situation gets resolved."
Jones said he wasn't thrilled to play center back, but was willing to do what Klinsmann asked him.
"I was OK with it. Of course the day when I heard about it I wasn't happy about," Jones said.
"I don't love that position, it's not my favorite position, but the end of the day I have to I understand that the coach he wants to try some stuff and see some other players too in that [midfield] position for the two games coming up."