Jurgen Klinsmann defends United States' recent performances
ST. LOUIS -- U.S. national team manager Jurgen Klinsmann has defended the recent performances of his side, despite a run of poor results.
Qualifying for the 2018 World Cup begins on Friday when the U.S. hosts St. Vincent and the Grenadines and then faces Trinidad & Tobago on the road the following Tuesday.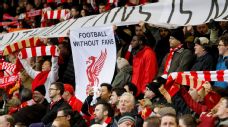 But the U.S. has won just once in its last six games. Included in that run are home defeats to Jamaica and Costa Rica, as well as the CONCACAF Cup loss to Mexico in extra time. The only victory was a 2-1 friendly win over Peru in September.
Yet Klinsmann believes his team has played well of late, especially in the Mexico match in which the U.S. was beaten 3-2 on a spectacular extra-time goal by Paul Aguilar.
"I agree with the fact that we didn't get the results that we wanted, but I don't agree with the fact that the performances were not the ones we wanted to see," said Klinsmann at Thursday's press conference. "I think we had a very, very good game actually against Mexico. We discussed that at length after the game. But we came out on the short end. We lost it. That's the bottom line."
While statistics can at times obscure what took place in a match, they paint a very different picture than what Klinsmann described. The U.S. was outshot 23-14 and had just 36.6 percent of the possession against Mexico.
Klinsmann indicated he accepted the criticism that comes with poor results.
"If you have negative results, there's critics out there," he said. "The expectations are always the highest."
Not everyone in the U.S. camp agreed with Klinsmann's assessment. Goalkeeper Brad Guzan, who will start Friday's match, admitted the U.S. has struggled of late, but expects the U.S. to rebound quickly, especially against a St. Vincent side that is a huge underdog in the match.
"It's no secret, we know the results haven't been great for us," said Guzan. "But at the same time, we're confident in our team, we're confident in each other. Come Friday night, we win, we win on Tuesday, all of a sudden everyone is talking a different game, and everyone is saying how great we are."