Rodgers aims to lay first true marker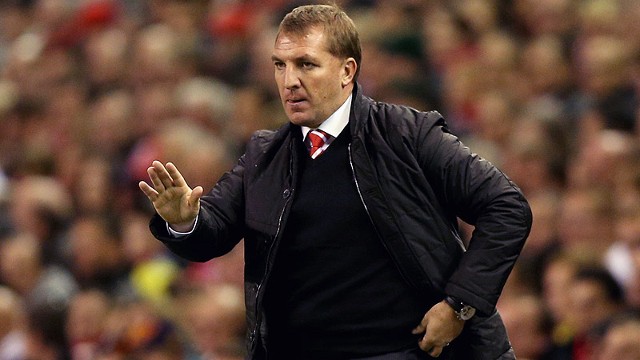 There are no more familiar foes in modern English football than Chelsea and Liverpool, a classic case of familiarity breeding contempt. How did a club near the Irish Sea become so intertwined with one south of the River Thames? The answer lies in the European Cup, the trophy that Liverpool yearn for and Chelsea currently hold. "You ain't got no history" was the regular Liverpool chant when the pair did battle during the mid-to-late 2000s.
First, two Champions League semis went to Liverpool, the third went to Chelsea. The trajectory of the clubs has differed since around the summer of 2009. Chelsea now speak of their status as European champions; Liverpool can only look to the past and think of a bright future. The man leading them in that direction is no 'Boot Room' graduate. Instead, Brendan Rodgers made his coaching bones at Stamford Bridge, as an underling of Jose Mourinho, before striking out on his own and developing his own philosophy.
He has enjoyed only shaky beginnings at Anfield, where he has won just three games all season, and away form has hardly provided much comfort either. Liverpool have not won on the road since the late-September afternoon when Luis Suarez ran riot at Norwich City. Rodgers' very public face has convinced many of the rebuilding job required at his club, although a glance back to this period last year produces memories of twin victories at Stamford Bridge in both the Premier League and League Cup - a time when Kenny Dalglish's team were competing to return to the Champions League.
Glen Johnson's goal in the league fixture was the type to justify Rodgers' recent pronouncement that he sees Johnson as one of the best players in the Premier League and one of the leading full-backs in world football. Johnson may be freshly available after a hamstring problem but Maxi Rodriguez, Liverpool's other scorer that day, is no longer an option. Rodriguez's guile may have fitted well into Rodgers' chosen style but, like Dirk Kuyt and Craig Bellamy, his high wages and advancing years paved the way for an exit.
Liverpool 'did the double' on Chelsea in the Premier League last season, thrashing the visitors 4-1 at Anfield on a night that saw Kenny Dalglish mount a lap of honour around the pitch as if he realised his time as manager was drawing to a close. The weekend before, his team had started the FA Cup final too slowly, a late comeback led by Andy Carroll not enough to deny Chelsea. Dalglish ended his second tenure by losing at Swansea City, to none other than Rodgers.
If Rodgers talks of three-to-five-year plans, then his opposite number on Sunday can do no such thing. Roberto Di Matteo cut a relieved figure on Wednesday evening after a late victory against Shakhtar Donetsk that only the Chelsea fanatic would say was richly deserved. That placed Champions League destiny in Chelsea's hands, and served to deflect attention from the Blues no longer being top of the Premier League, a position they slipped from after a defeat and a draw.
Chelsea got to that position by playing some excellent football, and Di Matteo is to be admired for his bravery in playing three playmakers, though wily managers like Sir Alex Ferguson and Mircea Lucescu have found holes in his defence resulting from that cavalier policy. Rodgers has a decision to make. Does he target the left side of Chelsea, with no Ashley Cole, and Eden Hazard often unwilling to cover, or stick to his usual gameplan?
Perhaps Di Matteo may block off that weak point, but Chelsea do not look quite as powerful as they did a few weeks ago. Rodgers was also able to rest much of his first-choice XI by not taking them to Moscow on Thursday.
That game, against Anzhi Makhachkala, ended in a defeat from which Liverpool's manager claimed, as he usually does, many positives. Rodgers is yet to send out the first true signal that he is, to use the modern vernacular he so often chooses, the man to take the club forwards. Stamford Bridge would be a good place to start.
Chelsea player to watch: Fernando Torres A trite choice, perhaps, but one certain to be targeted by Liverpool fans in their corner of the Shed End. Torres is approaching two years at Chelsea, and is still yet to convince. Shakhtar provided more examples of a player who may work hard for his team but is sluggish in front of goal. Torres' goal owed as much to fortune as his tracking the hapless Pyatov, but thereafter he was little threat. Reds fans are happy with his true replacement - Suarez, rather than Carroll - but Chelsea have never had Torres so good as Liverpool once did.
Liverpool player to watch: Steven Gerrard Gerrard is in the process of passing milestones. Last week saw him reach 600 appearances for Liverpool, and midweek will see him reach his century with England. It has been a time of reflection, and Gerrard admitted that twice he considered joining Chelsea, the only English club that have ever expressed serious interest in him. Had that happened, he may have worked with Rodgers earlier, but instead he is the Reds' elder statesman. He is no longer the player that Chelsea so coveted, but his influence and experience of such occasions will be needed to nurse Rodgers' young team through.
Key battle: David Luiz v Luis Suarez The Liverpool player that Chelsea found hardest to deal with last season was Carroll, whose wrecking-ball act in the death throes at Wembley and then at Anfield the following week caused real problems. This is a different Liverpool, one built around and reliant upon Suarez. Last season saw him accused of not scoring enough, but seven is a fine return when the next best contribution, from various team-mates, is just one. As the quickest Chelsea defender, Luiz is the man expected to stop his fellow South American's careering runs, and he will need to return to the form of last season's run to Munich rather than the ponderous play of recent weeks. Shakhtar's Willian, a player who, like Suarez, ghosts around the field, certainly got the better of him in midweek.
Trivia: In the 2004-05 and 2005-06 seasons, Liverpool and Chelsea played each other ten times. Liverpool won just two of those games, but they were famous wins nonetheless. Luis Garcia scored a disputed winner in the 2005 Champions League semi-final, and then the clinching goal in an FA Cup semi at Old Trafford. Two 2005-06 Champions League group games ended 0-0, as had the first leg the previous season.
Stats: Fernando Torres scored five goals in four Premier League games against Chelsea while playing for Liverpool, but has netted none in three for the Blues against the Reds since his transfer. Torres made his debut for Chelsea against Liverpool at Stamford Bridge after his £50 million transfer, but has lost all three Premier League meetings with Liverpool and in the League Cup last season too. He was an unused substitute in the 2012 FA Cup final.
Odds: Chelsea are a shade under odds-on at 1.95 at bet365, and Liverpool are 4.00. A draw is on offer at 3.50.
Prediction: Liverpool's fresher legs should make life difficult for Chelsea, and they ought to claim a draw at the least.
Follow John Brewin on Twitter @JohnBrewinESPN