Watching Italy's win with the most interesting man in Milan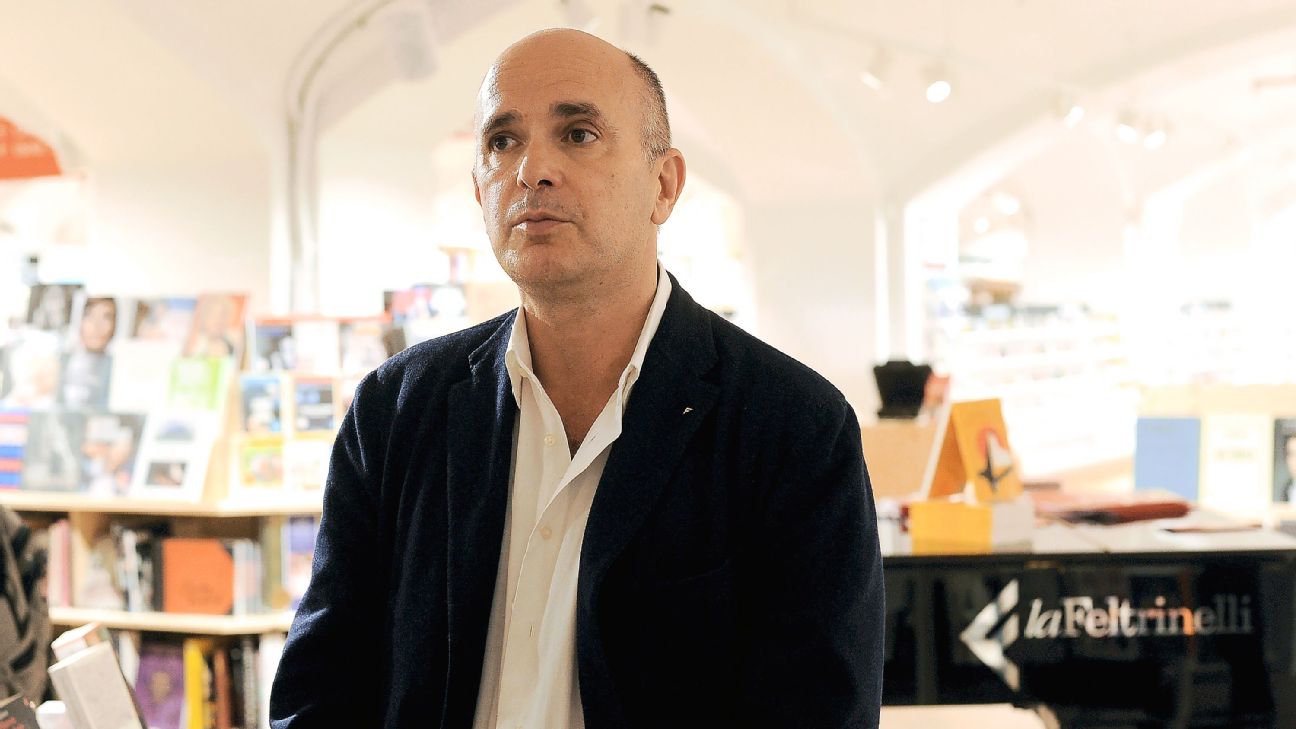 MILAN -- A real-life contender for the world's most interesting man invited me to Milan to watch the Italy-Spain match, so I met him at a construction site, which were his instructions. I got there, and the security guard clearly expected me, handing me a hard hat and letting me through the gate. An enormous silver and glass structure rose into the sky in the center of Milan. It was blisteringly hot.
Wearing a linen shirt and khaki jacket, Carlo Feltrinelli came to get me.
"This is the most ambitious, and dangerous, project I've done in my life," Carlo says.
I don't know where to start with Carlo. His family tree includes industrial barons and communists. His mother fished with Hemingway. He's got a maroon Eames chair. Even though he's wealthy and powerful, he still speeds around Milan like a maniac on his scooter. His dad smuggled the manuscript of "Dr. Zhivago" out of the Soviet Union and published it for the first time. Carlo and Bob Dylan once went to see Leonardo da Vinci's "The Last Supper" -- by themselves at night when the museum was closed. He wears cool sunglasses. His family's old Lake Garda villa is now a fancy hotel, and during World War II, Mussolini seized it as the Allies closed in. He makes a great gin and tonic.
And now, this.
The architects who did the Olympic Stadium in Beijing designed it. With sharp angles and a steel frame showing huge plates of glass, it's stunning. Carlo took an enormous -- and invaluable -- plot of land owned by his family and, instead of developing it for a gajillion dollars, he is building a home for the Feltrinelli Foundation and for his late father's library. It's one of the most important collections in the world documenting the struggle of the working class, of peasants and revolutionaries, of factory workers and immigrants. They have thousands of documents, including Marx's notes, and Engel's notes, and their letters to each other. When he was alive, Lenin coveted Giangiacomo Feltrinelli's library.
Walking inside, stepping around the maze of ducts and bundles of wires, he asked if I've seen "Fitzcarraldo," the 1982 Werner Herzog movie about the guy who wants to carry a steamship through the jungle over a mountain. He smiled.
"It's more or less like that," he says.
He's spending an insane amount of money to build the place, which won't be as difficult as funding it, since his goal is to have events here in this space every day, and have it be the world's intellectual home for studying ideas like globalization and European identity. While we're walking, I asked why he's doing this. He said he will tell me later, over drinks, and we made our way to the top floor, where the reading room will be. A special elevator connects it with the library so students can have texts brought to them. A vaulted ceiling and towering windows gave a view out over the city of Milan, and out to the right, he pointed to the cemetery where his father is buried.
---
I've run into Carlo a time or two before -- he has a love affair with my hometown, Oxford, Mississippi, as well as obviously being the largest Dylan fanatic I've ever met -- and I always feel like I am in some sepia-toned intellectual salon whenever I hang out with him and his friends. We don't agree on everything, but there are always important ideas being debated. It's something from another century, when politics weren't something hairdos chattered about in 15 second bursts.
His family owns a palazzo in the center of the Milan, and the fourth floor is a cool mix of midcentury modern, like his Eames chair, and the massive Renaissance oil paintings passed down through the generations. Before moving out to a compound in the countryside, AC Milan kept its offices on the ground floor of his building. For generations, the Feltrinellis have been one of the most politically important families in Italy. Carlo runs his family's famous publishing house and a thousand bookstores.
We talk a lot about the racism in Italian football, which makes him nervous, since the rebellions happening in the terraces are often the first stirrings of something that eventually finds its way to the streets. "This country, in the last 20 years, really has had a cultural collapse," he says. "In football, it's dangerous. Because of the racism. Because the stadiums are ugly. The games are fake, sometimes. It's really a cultural low point. There are so many social problems mixed in, which brings us to this stupid and dangerous situation."
The place is cool. His bar sits on a low shelf. A white bowling ball opens to reveal square cubes of ice. There's a bright yellow love seat and a peach upholstered chair. It's where Carlo grew up. The room with the bar is where his father kept his beloved German record player. They listened to "Sgt. Pepper" together here, and downstairs is where his dad's library lived for all these years. That collection existed to keep fascism from returning. Carlo never said it but I believe that's part of why he is risking so much to build the library now. It's completing the work of his father.
"He was committed to telling the story of people who were oppressed," Carlo says.
Giangiacomo Feltrinelli grew up a prince, with private tutors. His father died of a heart attack after Mussolini demanded he resign from his bank board. Right-wing propagandists spread the rumor that he committed suicide. Left-wingers claimed Mussolini had him murdered. Giangiacomo spent all his time as a child with the peasants and servants, saw how they fought in a world war started by the wealthy.
He inherited an empire, then built another. Along the way, he earned millions, shining a light on the betrayal of the peasants, getting himself kicked out of the Communist Party. He believed books could be bombs for most of his life, until he decided only bombs were bombs. The late '60s burned in Italy, just like the United States, and Giangiacomo felt the neo-fascists plotting a military coup. He created a new identity, disappearing into the underground, linked to bombings. Fidel Castro became a close friend, and as Mussolini had once kept files on his father, the CIA now kept files on him. An assassin used his pistol to kill the man who'd killed Che Guevara. In 1973, trying to blow up power lines, he died. Some called it an accident. Others believe he was murdered. Carlo was 10 when he lost his father, and he remembers the last Christmas they celebrated, the white berries hanging from the vines, the steel wristwatch he received as a gift, the toy rocket they shot into the sky.
---
We watched the game with his friends in an apartment. Some were Spanish, and some were Italian, everyone crowded around the television, drinking beers and eating salty parmigiana cheese. Kids ran all over the place, laughing, as parents tried to make sure their boys and girls cheered for the correct color. In Italy, basically everyone supports the national team, from neo-fascists to left-wingers like Carlo.
At halftime, he made gin and tonics. We talked in the kitchen as he found the ice and the booze, carefully cutting slices of lime. He'd started to talk about why he would spend so much money on building a research facility, risking not just his reputation but also his fortune, his future and even his father's treasured collection, should the project fail. He could have kept it completely safe in the palazzo, right where his dad had left it.
"It's something I want to do before getting ..." he says, before trailing off, and the word he doesn't say is obviously "old."
He sees the world and thinks the ideas in his father's collection are important, especially now. If they just stay in a dark room collecting dust, they are useless, just a monument to something that's now gone forever, like his grandfather, and his father and, as his own awareness of aging proves, himself.
"I don't want all the material to become a museum," he says, nodding, and we go back to the couch to watch Italy win 2-0 and earn a quarterfinal matchup with Germany. He pumped his fists and smoked a victory cigarette on the balcony. Down below was a piazza named for the founder of the Italian Communist Party, and Carlo absentmindedly talked about that guy's towering intellect and the time he spent in jail.
We drove his scooter back through the city on a perfect night, around bars full of celebrating fans, their cigarette smoke in our noses for just a moment as we pass. Carlo accelerates down a cobblestone street, under the wires for the street cars, weaving in and out of traffic. Drivers honked their horns in celebration, and people waved Italian flags, and he was happy. Tomorrow, they'll move the collection out of the palazzo, which will be exciting but bittersweet.
There's no turning back, but tonight he felt happy, speeding off into the night.
A senior writer for ESPN.com and ESPN The Magazine, Wright Thompson is a native of Clarksdale, Mississippi.