Conte: Juve should be source of pride
Antonio Conte hopes Juventus can be a source of pride for all Italian fans as his side advances to the Europa League semifinals.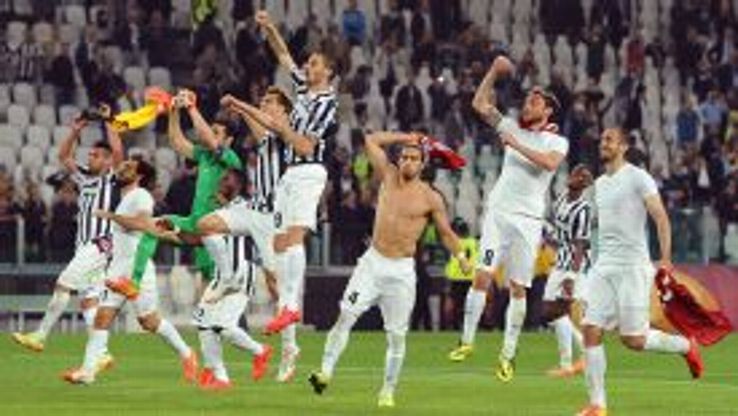 • Rzouki: Good win, but bigger tests to come
Juve, who beat Lyon 2-1 in the second leg of the quarterfinals on Thursday, is the first Italian club to advance to a European semifinal since Inter's Champions League triumph in 2010.
Italian sides have not made a semifinal in the Europa League or its predecessor, the UEFA Cup, since Lazio in 2003.
"We cared about reaching this objective and hope all of Italy can be happy with it," Conte told Mediaset. "We represent Italy and that has to bring satisfaction, as there hadn't been a European semifinalist for six years."
Conte overlooked Inter's Champions League glory, instead referring to AC Milan's semifinal appearance in 2007. He said he didn't believe Inter fans, at least, would turn around to support Juve, even if a bianconeri win could help Italy increase its number of spots in the Champions League.
"Nobody gives a damn about the UEFA ranking in Italy. They are either Juventini or anti-Juventini," Conte told Sky Sport. "Let's not beat around the bush, it's a question of local pride. We wouldn't expect Juve to support Inter, so we're not so hypocritical as to say we want Inter fans to cheer on Juventus."
Juventus are easily the biggest club left in the competition, alongside Benfica, Sevilla and Valencia, but Conte said his side has earned their success in Europe this season.
"I think that when we reach these levels, we meet excellent teams who are well organised," Conte said. "It's not that just because we are called Juventus we are greeted by a red carpet ushering us through to certain victory.
"Anyone who thinks everything is easy just because we are Juventus is deeply wrong. There is always a journey to go through.
"This season, even though the competition is different, we are still having an important journey in Europe. Juventus hadn't reached this phase in Europe for 10 years."
The draw for the seimfinals is set for Friday, and Conte knows which opponent he would like to avoid.
"As for the semifinalists, I'd say Benfica are the strongest opponents we could get in the draw tomorrow," he said.