Cristiano Ronaldo will be back in form in Champions League - PSG's Cavani
Paris Saint-Germain striker Edinson Cavani doubts that Real Madrid's Cristiano Ronaldo will have been worried by his recent inconsistent form and predicted that Wednesday's Champions League meeting of their teams could be the moment the reigning Ballon d'Or winner "reactivates himself."
Ronaldo has had an up-and-down 2017-18 thus far, scoring nine goals in six Champions League group games through the autumn but scoring only four times in his first 14 La Liga games as Zinedine Zidane's side fell completely out of the league title race.
However, the 33-year-old has hit better form recently, with his hat trick in Saturday's 5-2 win at home against Real Sociedad meaning he has seven goals in his last four La Liga outings.
Cavani, speaking to Marca, said all forwards had their good and bad moments and that he was sure Ronaldo's self-confidence remained high.
'@ECavaniOfficial apunta al Bernabéu' https://t.co/IcR0c5gz52 #UCL

— MARCA (@marca) February 12, 2018
"I believe this should not worry Cristiano," Cavani said. "He knows these things happen, as all us forwards do. And even more, with his conviction and confidence in himself, a game like this gives you the motivation to reactivate yourself."
Ronaldo's domestic struggles through the first months of the season -- and his ongoing issues with the local tax authorities -- came as sources close to his camp told ESPN FC that this could be his final season at Madrid.
But Madrid left-back Marcelo told Esporte Interativo that if Ronaldo had really wanted to leave Madrid he would not be there anymore.
"I don't believe Cristiano is unhappy [at Madrid]," club vice-captain Marcelo said. "If he was, he would have left. He is a mature guy and has a lot of strength within the club. We all know his ability and what he can bring to the team."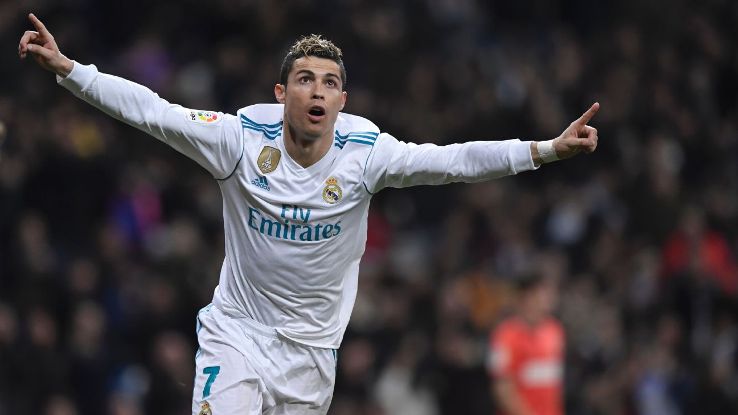 The recent upswing in Ronaldo's form has been well-timed, teammate Lucas Vazquez said in the mixed zone after Saturday's victory over La Real.
"We're happy for Ronaldo," Lucas said. "When he does well, Real Madrid does well. [The goals] are coming at a good moment."
One low point for Madrid this weekend was Karim Benzema again missing chances and again being whistled by his own team's fans, with the 30-year-old now having scored just six goals in 25 games all competitions.
Zidane again backed his fellow countryman at the postgame news conference, and right-back Dani Carvajal told reporters at the stadium that Benzema could ignore such treatment while he was playing.
"Being jeered isn't nice but [Benzema] is a player who is able to forget about everything when he's on the pitch," Carvajal said. "He's very important for us. He's our No. 9 and I'm sure that he'll get a lot of goals."
Dermot Corrigan is a Madrid-based football writer who covers La Liga and the Spain national team for ESPN FC. Follow him on Twitter @dermotmcorrigan