Arsenal keeper Petr Cech hopes to preserve record against Lionel Messi
Petr Cech is hoping to prolong his run of clean sheets against Lionel Messi but says his priority is helping Arsenal beat Barcelona in the Champions League.
Arsenal face defending European champions Barca in the round of 16 with Arsene Wenger looking to get the better of the Catalan side for the first time in the competition.
After a draw and a defeat to Barca in the 1999-2000 first group stage, they lost to Frank Rijkaard's side in the 2006 final and were then eliminated by Pep Guardiola's team in both 2010 and 2011.
Wenger's men claimed just one win in those seven encounters, but former Chelsea goalkeeper Cech can at least draw on his record against Barca's leading star.
The Czech Republic goalkeeper has faced Messi in eight games in his career so far, but the Argentina forward has never scored a goal against him.
"Not many people can say they've played eight games or how many minutes against Messi and he hasn't found a way to get past me," Cech said. "But if he scores and we progress to the next round then it's not really important.
"What's important is for us to make sure that we give ourselves a chance to progress to the next round."
Cech's performances were one of the key reasons Chelsea managed to oust Barca in the 2012 Champions League semifinals en route to the London team's first title in Europe's top club competition.
He kept a clean sheet in the 1-0 home victory in the first leg, while Messi struck a penalty against the bar in the 2-2 draw at the Camp Nou.
Cech had previously frustrated the four-time FIFA World Player of the Year in the 2009 semifinals before Andres Iniesta's injury-time goal at Stamford Bridge sent Barcelona through to the final.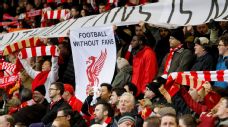 The goalkeeper also played a key role in helping Arsenal emerge from the group stage this time around, making a number of key saves in a 2-0 win over Bayern Munich at home and then keeping another clean sheet as the team progressed with a 3-0 victory at Olympiakos.
Arsenal host Barca in the first leg on Feb. 23 before travelling to the Camp Nou on March 16.
Mattias is ESPN FC's Arsenal correspondent. Follow him on Twitter: @MattiasKaren.