Dinamo Zagreb's Arijan Ademi fails doping test after UCL win vs. Arsenal
UEFA has begun disciplinary proceedings against Dinamo Zagreb player Arijan Ademi after the midfielder failed a doping test following his team's shock Champions League win over Arsenal last month, the Croatian club have confirmed.
Ademi, 24, played the full 90 minutes of Dinamo's 2-1 win over the Gunners in their Sep. 16 Group F opener at the Maksimir Stadium.
In a statement on their official website, Dinamo would not provide details of the failed test but said they were "surprised" by the Macedonia international's results.
Nakon doping kontrole otvoren postupak UEFA-e protiv Ademija. http://t.co/41NeX86Ome #dinamo

- GNK Dinamo (@gnkdinamo) October 7, 2015
"Due to a positive doping test after the Champions league match Dinamo - Arsenal, UEFA instigates disciplinary proceedings against Arijan Ademi.
"Our players are constantly under doping control, especially during the UEFA competitions, and this is the first time we are facing a situation like this one. We are surprised because Ademi was selected for doping control six times this year and results were negative every time, as well as results of every other player who was selected for doping control by UEFA or Croatian Anti-Doping Agency.
"During a disciplinary procedure GNK Dinamo is not allowed to make any statement. We will inform you about the progress of this situation."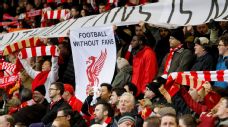 The surprise win over Arsenal was followed up in Europe with a resounding 5-0 defeat at Bayern Munich, in which Ademi also played, and that loss brought an end to Dinamo's 45-match unbeaten run in all competitions.
Despite that defeat, Dinamo are joint with second-placed Olympiakos in Group F ahead of their upcoming home and away fixtures against the Greek club.
Arsenal are bottom of the group after losses against Dinamo and at home to Olympiakos, with a double-header against German giants Bayern on the horizon.
The Gunners have not been eliminated from the Champions League at the group stage since 1999-2000.