Gareth Bale: This is why I joined Madrid
Gareth Bale declared "this is why I wanted to come to the biggest club in the world" after playing a central role in Real Madrid's progress to this season's Champions League final with a stunning 4-0 semifinal win against Bayern Munich in Germany.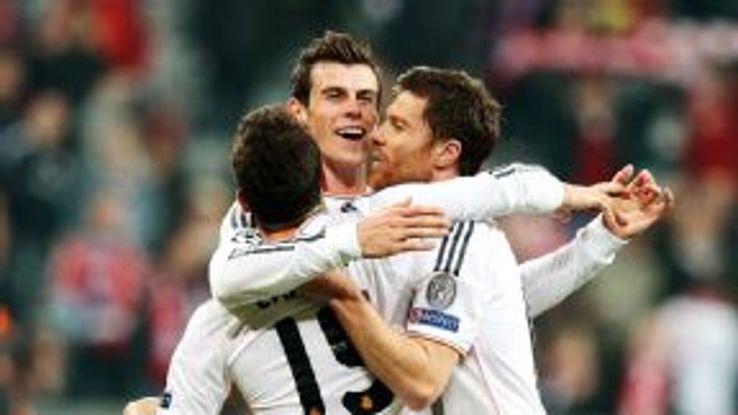 • Hunter: Real's way is paved
• Brewin: Three Things
• Train: Real dominates
The 5-0 aggregate success for Carlo Ancelotti's side was a stunning statement of intent from the Spanish giants, who are closing in on the mystical tenth European title that has eluded the club since their last Champions League triumph in 2002.
While Bale was quick to point out that he expected to face a stern test in next month's finale in Lisbon, the Welshman who signed for a world record 86 million pounds from Tottenham last August was clearly revelling in the moment for Real Madrid.
Bale set-up the third goal for Cristiano Ronaldo and worked tirelessly for a Real Madrid team that refused to allow Bayern a route back into the tie, and when asked whether this was the kind of occasion he joined Real Madrid to be a part of, his answer was emphatic.
"Definitely, this is why I wanted to come to the biggest club in the world, to win trophies, to play in massive games," he told ITV Sport. "We know we still haven't won it yet. We will still have a difficult game in the final, whoever it may be, and we are looking forward to it.
"It's a fantastic result for us. We have been working very hard, we got our tactics right and we deserved the win."
Bale suggested his side always fancied their chances of exposing Pep Guardiola's Bayern with speedy counterattacks, and once defender Sergio Ramos scored two early goals from set-pieces, the destiny for this semifinal had been decided.
"They always leave space on the counter attack, which we like," added Bale. "We have got good players and we are able to exploit that. It was a great performance and we are just happy to be in the final now. Just one step to go.
"You have to do certain jobs for the team in certain games and everyone put 100 percent into it, everyone put in a performance and that showed in the result."