Vincent Kompany sees hope for future
Vincent Kompany said Manchester City earned a "clear penalty" in the second half of Wednesday's Champions League second leg defeat to Barcelona.
City were not awarded a penalty after striker Edin Dzeko was downed in the box, and Pablo Zabaletta's red card for protesting over the decision all-but ending the Premier League's hopes of a comeback in the tie.
• Delaney: Three Things: Barcelona vs. Manchester City
• Tomas: Barcelona get back to business
• Mooney: Man City were already doomed
• Report: Barcelona 2-1 Man City (4-1 agg.)
City skipper Kompany was surprised by the decision.
"For me it was a clear penalty," Kompany told Sky Sports. "[Dzeko] was in a position to shoot and his trigger foot is caught and it takes the chance away, but you never know if it would have been enough to qualify."
Yaya Toure also criticised the referee while admitting the tie was likely out of reach.
"We learned we have to get a good referee," Toure said. "I think if we had a good referee in both games, defensively we were fine. But I think to be honest with you we lost the tie in the first leg."
Kompany suggested it is 'a matter of time' before his club start to challenge the Champions League elite, as he took heart from his side's display in defeat at the Nou Camp.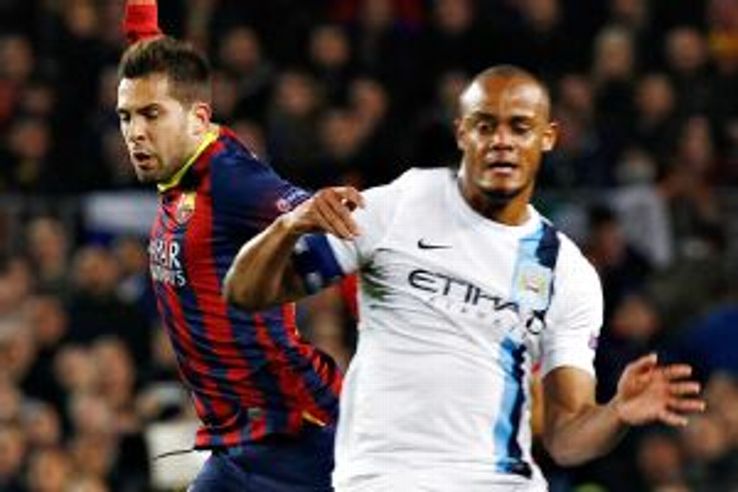 Kompany was City's shining star on Wednesday in their 2-1 defeat, with the 4-1 aggregate scoreline ending the Manchester club's hopes of making a breakthrough in the Champions League for another season.
Yet Kompany was keen to suggest City will eventually climb their European mountain, as he suggested their improved display four days after a disappointing defeat against Wigan in the FA Cup had to be seen in a positive light.
"I don't see why next year we should fear anyone," Kompany said. "The way we played against Wigan and this was completely different performance.
"Only the winners get remembered, but this is only the third year ever for Manchester City in the Champions League. It is a matter of time. Every team gets its moment.
"This [performance] should give us motivation and I can speak for the team to say we have nothing left in the tank, we gave everything. A few times we could have scored and it would have changed everything, but to go down to ten men for a second time after it was a clear penalty, it is not easy conditions to play against a strong team.
"Over the course of the two games with eleven players, there wasn't much between the two sides. Messi is an incredible player and whenever he is on the ball, danger can happen. Outside of that, we had a few chances and if we score, you are looking at a different game."
Meanwhile, Manchester City assistant manager Ruben Cousillas played down fears that striker Sergio Aguero faces another lengthy stint in the treatment room, after he was forced out of the action at the Nou Camp.
"It's too early to know how long he'll be out, but we don't think it's anything serious," he told reporters. "He felt some muscle pain but it was more a precaution than anything else. We'll do some tests to assess the injury."
Cousillas appeared content with the City effort, as he took on some media duties from boss Manuel Pellegrini, who was serving a touchline suspension.
"We played a good game against a really good rival," said Cousillas. "We had chances to get the first goal at nil-nil. They had chances too but we played a good level against a good rival. Of course it was difficult with 10 men against such a powerful team but we'll go home happy with the performance of the team.
"In the second half we had three or four clear chances with just one striker, so you can't say if we'd played two strikers we'd have had the same chances. We usually play with two but against Barca, with such good midfield players, we thought we needed to reinforce in midfield, but I don't think it would have changed the result.
"We tried, we had our chances and sometimes you can't convert them. We have to keep working but we're happy with our squad and happy with our performance.
"Players are human beings, not machines, and you have to go through some low times when you play so many games."