Juventus have been in danger of collapse all season long. Against Ajax, it happened
Imagine a warning light flashing on your dashboard as you speed down the highway. You know it's there. You know it's potentially important but no matter what you do, no matter what tweaks you make, it won't go away.
Welcome to Max Allegri's view while driving Juve's team bus. All season long he beat the same drum, even as the side were sailing through their Champions League group and establishing a record-setting pace in Serie A that could see them win the title for the eighth straight year this weekend. He didn't hide behind results or the silly mantra about "knowing-how-to-win-while-playing-poorly."
We need to play better. We need to dominate the opposition for longer stretches. We can't be too reliant on Cristiano Ronaldo. We need to show more personality. We need to get out of our comfort zone. This was his message and on Tuesday, chickens came home to roost. Juventus were beaten and thoroughly outplayed at home by Ajax, particularly over the first 25 minutes of a stunning second half, in a 2-1 defeat that dumped them from the Champions League.
What struck you most, perhaps, is that over the 180 minutes, Juve generally matched Ajax for the other 155. The problem is that at this level, it's not about staying in the game and holding your own, waiting for a set-piece or an opponent's mistake to strike. It's about being able to raise your game for spells in which you dominate, creating chances repeatedly and snuffing out every reaction before it begins. That's what Ajax did so well after half-time on Tuesday, with the crowd waiting for a home comeback that never came, and that's what we've rarely seen from Juve this season, at least not against good sides.
Think back over the campaign. How many times have Juve played well this season against good sides?
In the Champions League? Atletico Madrid and Valencia at home, Manchester United away. In Serie A? Roma at home, arguably Milan away and Napoli at home back in September. You'll note that only one of those games took place after Christmas.
I know that "playing well" is subjective but there's still a "know-it-when-I-see-it" eye test. If you're into something more "objective" how about the xG? Against Champions League opponents Valencia, Manchester United, Atletico Madrid and Ajax -- yes, I'm excluding Young Boys for obvious reasons -- they managed 9.06 Expected Goals and conceded 7.23. Against Serie A's top six, they fared even worse, with an xG of 9.54 and an xG conceded of 10.84.
Some of us who thought that Juventus could still go deep in the Champions League believed Allegri would fix this, that he'd make the light stop flashing by coming up with something brilliant in the second half of the season. Because let's face it: it would have taken something brilliant to overcome the Ajax side seen on Tuesday night. This time, he wasn't able to conjure up the magic.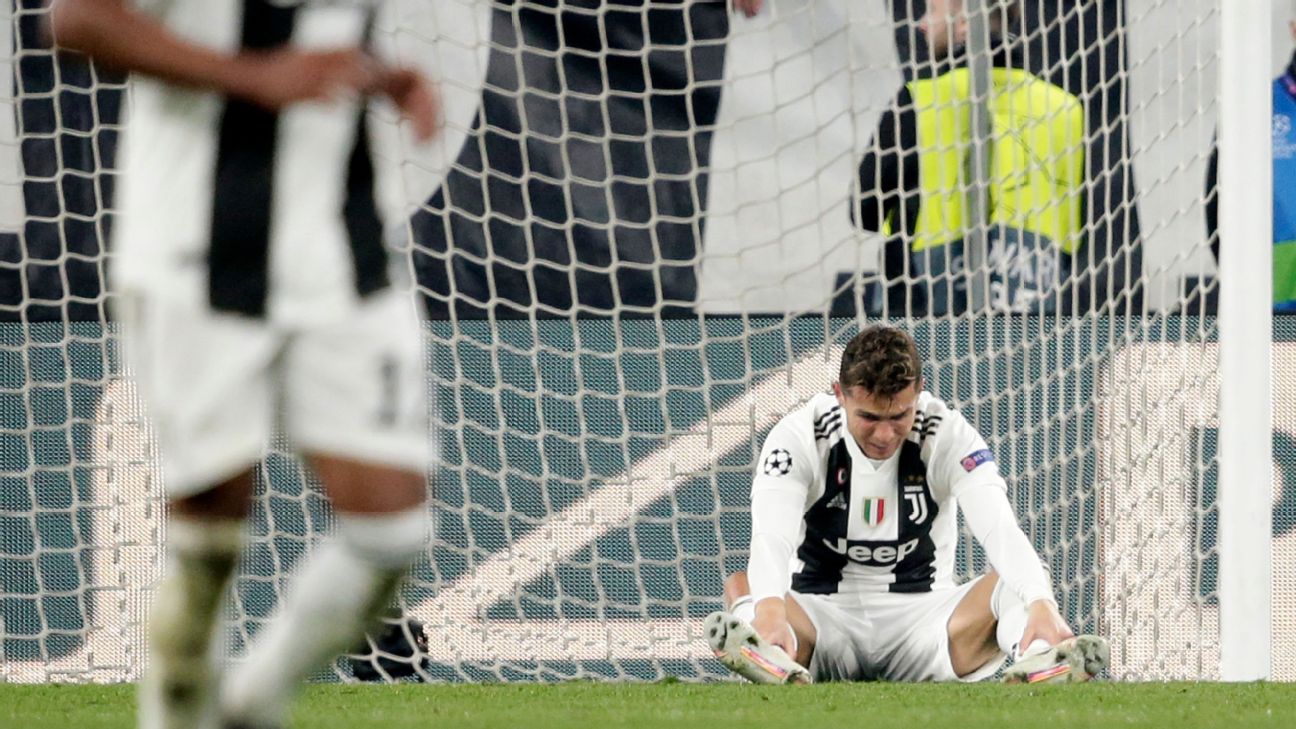 We can drive ourselves mad with microanalysis of the match, decisions made and not made, the impact of Giorgio Chiellini's absence and the sluggishness in midfield, Cristiano Ronaldo being too isolated and whatever else. But the bottom line is that Juve's wage bill is five times that of Ajax. If the resources to perform better -- not win, mind you, because Ajax were out-of-this-world, but at least react and not get battered for 25 minutes at home in the second half -- are there (and they obviously are) there can be only one of two explanations: Either Allegri got it wrong (not just last night, but all season long, given the performances) or this team is poorly constructed.
Allegri bears plenty of responsibility, no question. But this is also a team with two right-backs, one of whom can't attack consistently and one of whom can't defend. (Put Mattia De Sciglio and Joao Cancelo into one of those machines from "The Fly" and that might do the trick). A midfield where, other than Miralem Pjanic, most players appear as if they'd rather not have the ball, given their tendency to either pass it sideways or simply run with it when they do get it. A frontline with a battle-scarred center-forward who turns 33 in May (Mario Mandzukic) and a would-be "No.10" whose confidence has been thoroughly destroyed over the past 18 months (Paulo Dybala).
People have pointed to Juve's average age, and yes, that's a concern too. What we saw is pretty much their Best XI -- bar Chiellini for Mattia Rugani (which would actually make them nearly a year older) or, possibly, Mandzukic for Dybala (which would also make them older) -- and it borders on age 28.
Juve president Andrea Agnelli said he disagreed that age was an issue, adding that "apart from Ronaldo, the team that faced Ajax were all young." Given that nobody was younger than 24 and that six were 28 or older, you can only conclude he has his own definition of "young." It's easy to mock Agnelli (I just did) but the reality is that he can't get too caught up in issues of age for the simple reason that this is no time for a rebuild.
Tempting as it may be, and as many are wont to do after this most traumatic exit, to talk about clear-outs and rebuilds, Juve simply can't do it. They made a very clear choice when they committed some $375 million in wages and fees over four years to Ronaldo. They need to win right now and they built their side accordingly, packing it with pricey veterans. (There's another one on his way next year in the form of Aaron Ramsey, who turns 29 next season.)
What's more, they had a $22m loss in the 2017-18 financial year (the one before Ronaldo's arrival) and while they did show a profit in their half-yearly statement this year ($9m), Financial Fair Play only gives you so much wiggle room.
Agnelli understands this and that's why he knows Juve have to stay the course. He left no doubt that Allegri would be back next season and that he had faith in this group of players. They've put a destination in their GPS and chosen a route to get there. It's too late to find a different way of getting to where they want to be: supertankers don't do U-turns particularly well.
Allegri will still be driving because when you have a team of veterans, shocks to the system can be dangerous and counterproductive. He has six months to get that warning light to stop flashing.