Exclusive: Manuel Neuer on Liverpool clash in Champions League, injuries and finding form
MUNICH -- It would have been easy, understandable even, to cancel the interview. A few days before we were due to meet in the Bavarian capital last Sunday, Manuel Neuer had hurt his right hand in a training exercise. The injury was initially described as not serious but soon became the subject of much intrigue as the Bayern Munich goalkeeper missed two games and the club refused to provide any updates. Neuer, too, remained tight-lipped. The exact nature of his complaint was guarded jealously at Sabener Strasse, almost like a state secret.
When his giant frame at last fills the space between a row of offices overlooking the training ground, however, he's incredulous that his commitment to talk to ESPN should have ever appeared in doubt in light of his troubles.
"I said I'd do it, didn't I?" he says with a small shrug of his shoulders. His only concession to the bruised thumb in a protective brace is to forgo handshakes. It's fist bumps all around instead.
Neuer talks the way he plays: He gives little away. Initial exchanges are friendly but curt.
"How are you?"
"I'm fine, thank you very much."
"How's your injury?"
"It's not that bad, I'm feeling ok. Let's see if I can [make it] onto the pitch."
"Can you explain what happened?"
"An injury to my hand. That's it."
Bayern and Germany's No. 1 doesn't so much answer the questions as parry them away, like shots in a prematch warm-up.
That contentious subject out of the way, he becomes more relaxed. There's genuine excitement of playing his first appearance at Anfield on Tuesday night -- "Everyone who watches a lot football knows it's a special atmosphere" -- and about the noise he's likely to encounter.
"Does it matter? Of course," he says. "I like it when fans are cheering a lot, close to the goal. But if you want to speak to your colleagues on the pitch it's not that easy when it's loud, they can't hear you. You have to speak in a different way. When you see each other and you have good body language, you know what's going on."
It's been almost 38 years since a Bayern keeper last stood between the posts in front of the Kop. Walter Junghans kept a clean sheet that night, in the first leg of the 1980-81 European Cup semifinal, but the Merseysiders went through after a 1-1 draw in Munich and would go on to beat Real Madrid in the final to lift the trophy for a third time.
Neuer clearly relishes the opportunity to be involved in a high-pressure replay that will shape Bayern's season. He won't go into specifics about his preparation for the games -- "I will be watching the way the strikers move and shoot with the analysts," is all he'll say on the matter. You get the sense Neuer has been calculating angles for so long on the pitch that he can't stop himself doing the same off it. He's reluctant to provide any insight, having most likely concluded that there was no benefit for him in doing so.
By contrast, he's generous in his praise for Liverpool keeper Alisson: "I like his style. I've seen him at Rome, and I've seen him in the Brazil team, he's doing a great job."
Neuer adds that he's always interested to look at different keepers, at their "skills and ideas." He did not enjoy watching the Brazilian's predecessor, Loris Karius, having the worst night of his professional life in the 2018 Champions League final in Kiev, however.
"I was with the national team, and we all watched the game together. We hoped that he would do well -- he's a German keeper. I really felt for him. It was a sad day for goalkeepers."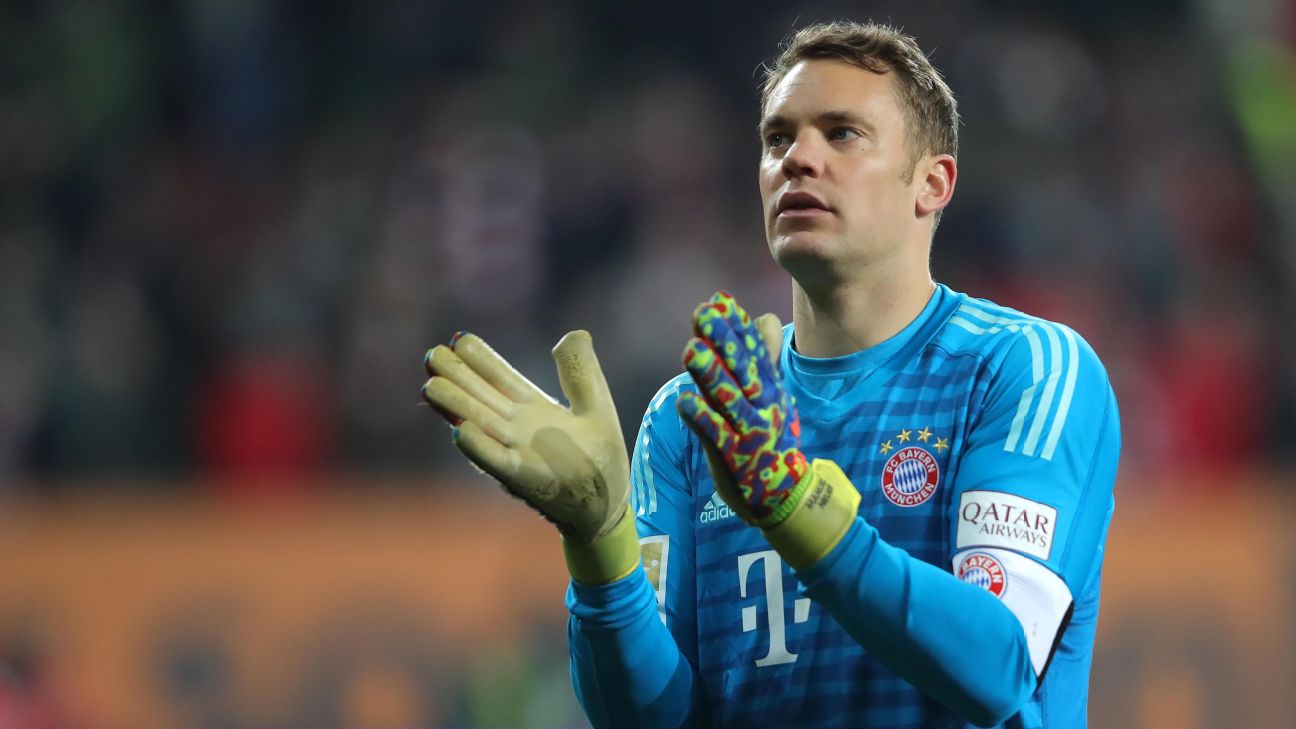 Bayern desperately need to avoid a similar fate against Liverpool if they are to see out the remainder of the season without serious repercussions. Not winning the league for the first time since 2012 might just about be forgivable, but a round-of-16 exit in Europe would be far less so.
The fact that Jurgen Klopp's Reds stand in Bayern's way only gives the two matches an added layer of delicious meaning. The whole of Germany will be watching, keen to find out whether Liverpool are as good as widely advertised and if the Bavarians' struggles are just a blip or indeed symptoms of a more profound regression.
Neuer himself will be under the spotlight, too. He'll be closely observed by friend and foe for any signs of discomfort after making an inconclusive comeback in Bayern's 3-2 win over Augsburg on Friday night. There wasn't anything he could have done about Leon Goretzka's own goal inside 15 seconds, nor Ji Dong-Won's shot for the home side's second. But he noticeably elected to push one long-distance effort away in the manner of a volleyball player, instead of trying to catch it. All in all, he's looked a little less infallible than before this year, just below his best. And so has the whole team.
Pushed to find an explanation for Bayern's rather disappointing campaign thus far, Neuer points the finger at himself and his fellow teammates.
"It was our fault, the fault of the players," he says. "We gifted so many presents to the opponents, and they took their chances. We didn't. We were at least equal to every opponent we played against, but we didn't [always] get the points. We have to do better."
Since the restart after the winter break, Neuer insists he's seen an improvement: "We have made progress. We're still involved in all the three competitions, and we won't throw the league title away as long as there's a chance."
Ever the professional, he prefers to think of the trip to the toughest team they have faced yet as an opportunity to shine and prove that reports of Bayern's demise have been vastly exaggerated.
"Hopefully," he says, "it will be a great, great night for us."