Champions League connections galore in group stage
Football is a small world, and the draw for this season's Champions League group stages threw up some connections and reunions of old friends.
Zlatan Ibrahimovic and Malmo
When news filtered through that Malmo, in their second successive appearance in the Champions League main draw after a couple decades away, had been matched with Paris Saint-Germain in their group, the Swedish club's website crashed. This was obviously not just because of the attraction brought by facing the premiere team in France but also because of the appearance of Zlatan Ibrahimovic, as he heads back to Malmo some 14 years after leaving for Ajax.
"One day, I hope to experience the Champions League in Malmo on the pitch," Ibrahimovic tweeted after his first club qualified for the tournament in August. It was a statement many took as a cryptic hint that he might return to the club, and it turned out to be (unintentionally) prophetic.
Plenty has changed since Ibrahimovic left Malmo. Not even the walls are the same, as the team moved from the old Malmo Stadion, where Ibrahimovic took his bow, to the new Swedbank Stadion in 2009. One interesting connection is Markus Rosenberg, the striker in his third spell at the club, was in the same youth team as Ibrahimovic and is the sole remaining man from Ibrahimovic's time. Ahead of the game, Malmo coach Age Hareide said he thought Rosenberg was more important to the Malmo side than Ibrahimovic was to PSG's. On Tuesday in Paris, perhaps we shall find out if that's true.
Jose Mourinho and Porto
This is not the first time Jose Mourinho will play a former club in the Champions League. It isn't even the first time he has managed Chelsea against Porto in the Champions League. Only weeks after his arrival for his first spell in London, then-defending champions Porto were drawn in the group stages with Chelsea, and Mourinho's new team made reasonably short work of his old charges with a 3-1 win in the first game but were beaten in the return, when Chelsea had already qualified for the second round.
"It was not a big sensation," Mourinho said of his return to the Estadio Dragao. "I tried hard not to think about it, only to try to win."
This edition of the Champions League might hold even more significance to Mourinho because of the state of things in his second spell at Stamford Bridge. Chelsea have suffered a stuttering start to the season, but perhaps it's not their results that might be of concern, with Mourinho having the look of a man whose mind and enthusiasm are not in the job, for whatever reason. A sticky start in Europe finally did him in during his first spell at the club (though that was just one of many factors), and it's not beyond the realm of possibility that history could repeat itself.
Memphis Depay and PSV
It seems Manchester United have been away from the Champions League for an awfully long time, even though they've been missing from Europe's elite for only a season. Now, 17 months after their most recent appearance, when they were comfortably eased aside by Bayern Munich, they're back in a return full of potential stories. The return represents another crack at the big cup for Louis van Gaal, who won it 20 years ago but hasn't been in the competition since 2011, when his Bayern team were beaten by Inter in the Round of 16. It's another chance for Wayne Rooney to prove he is still an elite striker, but it also sees the return of Memphis Depay to PSV, from which he joined United in the summer.
"He is a boy who has enormous intrinsic qualities and who knows how to connect with his huge willpower and focus," PSV sporting director Marcel Brands said to Voetbal International of his former player. "He will not be satisfied with being at Manchester United or his salary. He will want to be the best at Manchester United."
That sort of determination has been evident in Depay's early games for United, in which he has looked so desperate to impress that he almost appears to be trying too hard, and he'll be more effective if he relaxes a little. This is clearly easier said than done, but with that in mind, it will be interesting to see how he fares against the club he joined as a 12-year-old and left in the summer.
Jesus Navas and Sevilla
It perhaps isn't the most high-profile story of the group stage, and given the arrival of Kevin De Bruyne at Manchester City, Jesus Navas probably won't be among Manchester City's first-choice side for the Champions League games. However, in some respects, on Nov. 3, when City travel to Spain to play Sevilla, it will represent a significant moment in the winger's career and life. Ten years ago, it barely seemed plausible that Navas would ever play for anyone except Sevilla, the club he'd been with since a boy. For some time, chronic homesickness prevented him from playing for Spain. Indeed, so severe was his anxiety that back in 2005, his family had to collect him from a training camp in Huelva, only about an hour's drive from Seville.
After some fairly extensive therapy, however, he was able to conquer his fears, move to and thrive in a completely different country. But he hasn't forgotten his roots.
"What pleases me, above all, is that Sevilla is part of Europe's elite," Navas said after the draw. "That's what playing in the Champions League means. No doubt, I'll be very happy to return to Ramon Sanchez Pizjuan. I was born there and grew as a player there. It will always be special to me."
Indeed, Navas said earlier this year that he would like to finish his career at his old club. As it turns out, he might not have to wait that long to play at the Pizjuan again.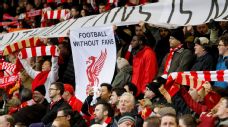 Luis Enrique and Roma
Really, before he arrived at Barcelona, there wasn't a great deal on Luis Enrique's résumé to suggest he would be a Treble-winning manager. A successful spell with the Barcelona B team and a reasonable season with Celta Vigo sandwiched a single campaign at Roma, during which he took them to a seventh-place finish 28 points shy of champions Juventus and oversaw a limp exit in the Europa League.
"I'm leaving because I feel very tired and drained," he said after departing halfway through his two-year contract. "I've given everything this season. I don't think I'll be able to recover my energy over the summer -- not the energy needed to motivate a group. I definitely won't be coaching next season, though I don't know if I'd even have had any offers."
Three years later, Luis Enrique was lifting the Champions League with Barcelona. Now he returns to the site of his first senior managerial job after the draw matched the Catalans with Roma.
"What happened at Roma made me a better coach," Luis Enrique said over the summer. "It was very intense and rewarding, a unique experience. I'll always be grateful for the opportunity they gave me. I arrived with different ideas about how to play football and found players ready to accept that change and a crowd which was behind us. I have great memories. I'd have liked to have finished higher [than seventh], but it was a very positive year."
Nick Miller is a writer for ESPN FC, covering Premier League and European football. Follow him on Twitter @NickMiller79.