Agyemang Badu wants Udinese exit, seeks Premier League move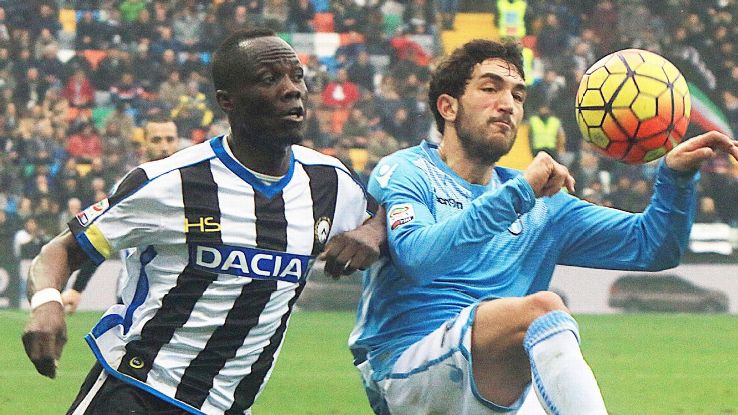 Udinese midfielder Emmanuel Agyemang-Badu has told KweséESPN he wants to leave the Italian club in the current transfer window.
The Ghanaian has spent seven years with the Serie A outfit and has made 189 appearances, including 29 last season, but says he is now keen to look for new challenges, with the English Premier League his preferred destination.
"I have been playing here for seven years now and think in many ways that I have done my part for the team. The team has been very good to me too, but it is time for a new challenge," Badu says.
"I still have a contract with the club, but we should all be clear on what the future looks like in the next two or three weeks."
Badu says while he is open to staying in the Serie A, he would be interested in a move to the Premier League after previous reported interest from Stoke City.
"That new challenge could be in Italy or it could be outside Italy; I am open to any of that, but preferably I will want to play in England because it is every player's dream."
The 26-year-old, who struck the winner for Ghana when they won the Under-20 World Cup eight years ago, also hopes that a new challenge would propel him back into the Black Stars set-up after he was dropped by new boss Kwesi Appiah for the Nations Cup qualifier against Ethiopia and the upcoming tour of the United States of America.
He says he is desperate to add to his 76 caps and 10 goals so far for Ghana.
"I am not bitter about that," he claims. "It is called a national team because no-one has a permanent spot in it, but it is now up to me to work even harder and earn my spot back. It will be a lot of work because as we saw against Ethiopia there is a lot of quality in that team, but I am up for it."