Turkish league suspended after attack on Fenerbahce team bus
The Turkish Super Lig has been suspended for a week after a gunman fired shots at the Fenerbahce team bus on Saturday.
The decision was announced by the Turkish Football Federation after talks with the country's sports minister on Monday.
"We believe the incident was a terrorist attack, targeting not only Fenerbahce but Turkish sports," Reuters quoted federation chairman Yildirim Demiroren as telling a news conference.
"We decided to postpone all league and cup games for a week."
Fenerbahce's bus was shot at as the players were driven to Trabzon airport following a 5-1 victory over Rizespor.
The club had called for the suspension following the attack, saying on their official website that the driver had been wounded and taken to hospital.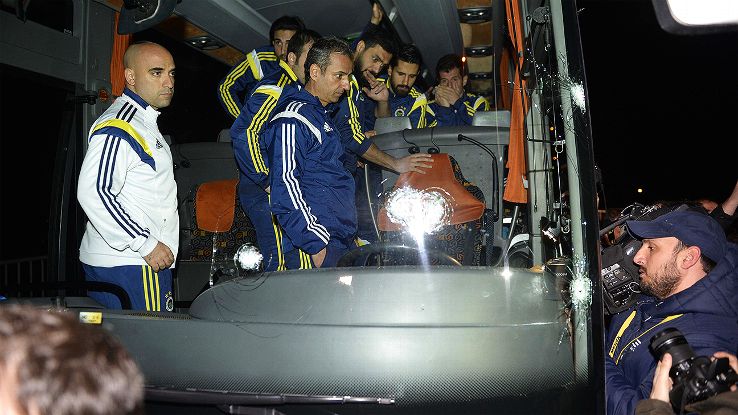 A statement said the attack had been an "assassination attempt" and linked it to hostility over match-fixing allegations against the club.
"It is a point where football comes to an end since blood has been spilled," the statement added.
"It is Fenerbahce's opinion that the league must be postponed until this incident is cleared up and the feelings of Fenerbahce supporters are satisfied.
"Blood ran and football was silenced. Finding and punishing the culprits is of vital importance for Fenerbahce."
Following the incident, Fener midfielder Mehmet Topal told Sky News: "We cheated death. God protect us. Words fail me. It's unbelievable."
The Turkish Football Federation released a statement condemning the attack, while Fener general secretary Mahmut Uslu said: "We came here to play sport -- we came to play football."