Would a Cristiano Ronaldo return to Manchester United make sense?
The transfer window might be closed, but the rumours keep ticking. As always, Transfer Talk has the latest and greatest. See all the summer deals right here.
TOP STORY: "Everything in place" for Ronaldo return
Spanish journalist Guillem Balague hosted a live question-and-answer session on Sky Sports Friday, and the expert on Spanish football had an interesting response when asked if Cristiano Ronaldo would ever return to Old Trafford.
"As I have said for months, everything is ready for him to go back. All the finances are in place if he decides to join them," wrote Balague.
Ronaldo, of course, became a global star while playing for Sir Alex Ferguson at Manchester United, before taking his stardom to the next level as a galacticos signing for Real Madrid. Since then, speculation has gone on and on as to whether the Portuguese would ever return to his former club.
Balague believes that even if a deal could be worked out, it's hard to imagine a return to Old Trafford making sense for Ronaldo. "He is a different player, United is a different club," Balague wrote. "He does dream of going back but I am pretty sure that if given the choice of PSG, another top European club or United, he might realise going back is not the greatest of ideas.
"He will have to fight with his own shadow. I feel before next summer Ronaldo will have to think about his future."
Another reason for transfer fans that summer can't come soon enough.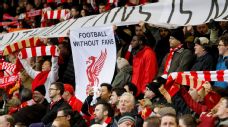 Everton keeping tabs on Saponara
Empoli had better keep an eye on Roberto Martinez and Everton, as the Daily Star reports the Toffees are eager to make a move for attacking midfielder Riccardo Saponara in January.
Martinez missed out on a move for the 23-year-old this summer, but has sent scouts to watch the Italian in action in Serie A three times this summer. They haven't been disappointed, with Saponara scoring three times in three games so far in this young campaign.
Napoli have also shown interest in the young playmaker, but he's expressed an interest in playing abroad. Empoli, who value Saponara at around £4.5 million, likely wouldn't want to sell to a league rival, giving Everton an inside track.
Alvarez headed to Porto?
Ricky Alvarez may soon get back to playing football after a prolonged dispute over the player's transfer from Inter Milan to Sunderland in March has left him in limbo. However, according to the Sunderland Echo, he won't be playing for either one of those clubs when he makes his return.
Porto are now in the running to sign the 27-year-old Argentine, who has appealed to FIFA to help him with his somewhat curious case. Football's governing body blocked a return to San Lorenzo for Alvarez, but left the door open for a move to another European club. The paper reports that even if Alvarez completes the move to Portugal, the acrimony surrounding his £8-million move from Inter to Sunderland is far from over.
Utrecht, Swansea continue Vorm squabble
When does a player with two years left on his contract get to leave a club on a free transfer? In this case, when it's Michel Vorm making a move from Swansea City to Tottenham. Wales Online chronicles the saga, which dates back to the summer of 2014.
Utrecht sold Vorm to Swansea at a cut-rate of £1.5 million and were supposed to get 30 percent of any fee Swans received for selling the player. The Dutch club maintain Vorm went to Spurs on a free transfer, while Swans reported the fee at the time as "undisclosed." Ben Davies also moved to White Hart Lane at the time, with Gylfi Sigurdsson going the other direction to Wales.
The case is now in front of the Court of Arbitration of Sport [CAS], with Swansea boss Garry Monk saying he's unconcerned because things were "run perfectly" at the Liberty Stadium. So the question is: what's 30 percent of nothing?
TAP-INS:
- Swansea City have sent Jay Fulton out on a 93-day emergency loan to Championship club Oldham. The 21-year-old has made seven appearances for Swansea since joining from Scottish side Falkirk in the 2014 January window. The move is subject to international and Premier League clearance.
- Despite comments to the contrary by Real Madrid president Florentino Perez, Alvaro Morata says he is completely happy at Juventus and has no plans to return to the club he came up through the junior ranks with. "I couldn't imagine myself at another club," said the 22-year-old.
- FIFPro, the union representing professional footballers, has lodged a complaint against FIFA with the European Commission in hopes of overhauling the transfer system. The union believes the current system harms members' rights to move between clubs and favors the bigger clubs. ESPN FC's Gab Marcotti breaks the situation down here.