Tottenham Hotspur midfielder Moussa Sissoko: Opponents know how we play
GHENT, Belgium -- Moussa Sissoko has said opponents are starting to work Tottenham Hotspur out after their Europa League defeat at KAA Gent on Thursday.
Jeremy Perbet's goal gave the Belgian club a 1-0 victory in the round-of-32 first leg match as the Londoners suffered a second successive defeat.

Tottenham Hotspur
KAA Gent
Game Details
Tottenham won seven straight games before drawing at Manchester City on Jan. 21 but, since beating League Two Wycombe Wanderers in the FA Cup fourth round, have won only once in four matches and have not scored from open play.
Manager Mauricio Pochettino has used various formations this season but his team's high defensive line, high-intensity pressing and short passes from the back remain consistent.
Speaking to reporters in Belgium, Sissoko said: "Everyone knows how we play and they try to give 100 percent against Tottenham.
"We saw it tonight -- it was a hard game and they won, but it's only the first battle. We have another one soon so we have to do everything to get through to the next round.
"Every team we play has a different style but we have a philosophy of how to play, and we try to do the same philosophy every game. Sometimes it's working, sometimes it is a little bit harder.
"We still keep going in that way because that is how we work and how we did well in the past. It's just a bad moment, but we will come back stronger."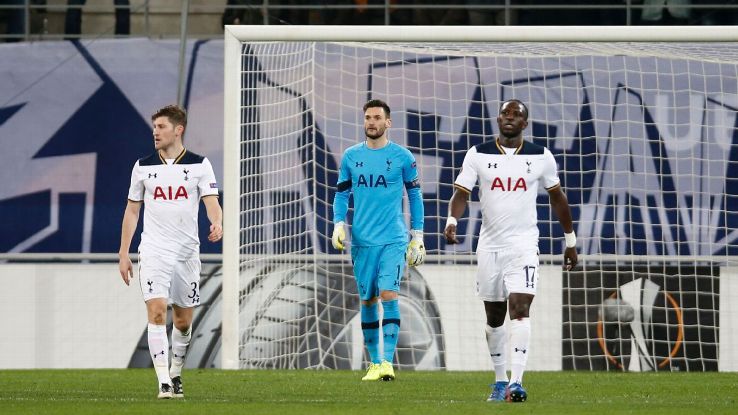 Pochettino has spoken of the importance of winning a trophy this season, and Spurs can still qualify for the Europa League round-of-16 in the second leg at Wembley.
Before that, they take on Championship side Fulham in the FA Cup on Sunday.
Asked whether they can still win silverware, Sissoko said: "Of course. We have a lot of quality. We have lost two games in a row and we now play Fulham so we need to do everything to win the game."
Sissoko has been a bit-part player since joining Spurs from Newcastle United in a record-equalling £30 million transfer in the summer and was replaced after 70 minutes in Gent.
But he said: "I tried to give my best for the team and that's the most important. All the players need to give everything every game and then, if we want to finish high, we need to improve every game."
Dan is ESPN FC's Tottenham correspondent. Follow him on Twitter: @Dan_KP.